Frelle Pettersen's Tokyo Grand Prix winner is a sensitive, contemplative portrait of life in rural Denmark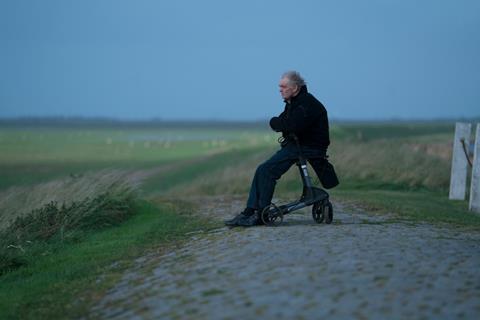 Dir/scr. Frelle Petersen. Denmark. 2019. 105mins
Steeped in the fading agricultural traditions of Denmark's southern Jutland area, Uncle roves a sensitive eye over the duty and routine of rural existence. Featuring a powerful, understated performance by veterinarian-turned-actor Jette Søndergaard as a young farmer grappling with life-altering opportunities, this year's Tokyo Grand Prix winner proves as quietly eloquent as its locale. It's also broadly familiar, ploughing happily through adult coming-of-age territory; however, as writer/director Frelle Petersen stares lovingly at his backdrop and sees majesty in its grassy expanse, he explores both its beauty and its tedium.
A film of revelatory detail
In his second feature after 2016's Where Have All the Good Men Gone, which was also set in the area, Petersen does more than capture the repetitive rhythms of farm life and unpack the catharsis that can spring from monotony. He relishes the everyday minutiae experienced by 27-year-old Kris Stenbjerg (Søndergaard) and her ailing, elderly uncle (Peter Hansen Tygesen), while also pondering their place in the wider world — plus hers in their self-contained world. It smacks of contemplative festival fare, right down to its patient pacing and fondness for showing rather than telling, but Uncle still resonates. The film plays CPH PIX and Tallinn Black Nights next, which likely won't be its last festival stops, and is also slated for a local release this year.
As established in wordless scenes designed to echo through the movie, Kris and her uncle fulfil the same daily cycle. They eat modest meals in their farmhouse, which looks like it hasn't welcomed new furniture since the 1970s. They tend to the cattle and the land, completing their work attentively. And after the day is done, they watch Danish sitcoms and play Scrabble. Only TV news reports about global events, traumas and politics let the pair peer at life beyond the farm. Vet Johannes (Ole Caspersen) is their only regular flesh-and-blood contact with the outside world.
Through the kindly Johannes, Kris' backstory comes into focus. After a family tragedy, she moved in with her uncle; then, when he suffered a stroke, she postponed her veterinary school plans to care for him and the farm. Also through Johannes, Kris gains a fresh chance to reclaim those long-abandoned dreams — and, when she helps him at a neighbouring property, to spark up a tentative romance with the talkative Mike (Tue Frisk Petersen) — but putting herself first isn't in her nature.
Pondering the interplay of love and guilt as Kris decides between her own and her uncle's needs, this isn't a film of surprises. That said, it is one of revelatory detail. Shooting and editing as well as scripting and helming, Petersen draws upon his own history growing up on a farm. Muddy stalls, dirty tractors and labouring cows aren't the prettiest sights to see — an honour that instead goes to the picture's wide, sun-dappled vistas — but they speak volumes about Kris and her uncle's life and bond, her relentless work ethic, and her strength and determination.
Although no moment, task or place is too trivial for Petersen's camera, little reaches the level of detail conveyed by Søndergaard. She's not the only actor playing with her own past — the naturalistic and affable Tygesen is a lifelong farmer making his acting debut and also and happens to be Søndergaard's real-life uncle — but it's easy to see why, after appearing in the filmmaker's last feature, that Uncle's lead was written for her. Never better than when she's monopolising the screen, Søndergaard rides Kris' internalised emotional rollercoaster from confident and stubborn to yearning and uncertain as if it's her own.
Production company: 88 Miles
International sales: Alpha Violet, virginie@alphaviolet.com
Producer: Marco Lorenzen
Cinematography: Frelle Petersen
Editing: Frelle Petersen
Music: Flemming Berg
Cast: Jette Søndergaard, Peter Hansen Tygesen, Ole Caspersen, Tue Frisk Petersen