Russian filmmaker Kira Kovalenko makes her debut with this intense, Un Certain Regard-winning family drama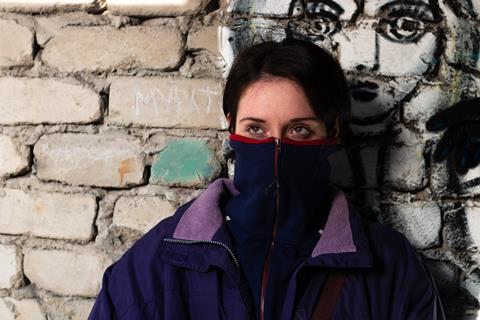 Dir: Kira Kovalenko. Russia. 2021. 97mins
A young woman fears that she has one last chance to escape the virtual prison created by her father in a soul-destroying mining town in the Caucasus – but, after years of smothering constraint, the biggest obstacle to her dream may actually be herself. While this is a promising premise, Kira Kovalenko's second film (after 2016's Sofichka) can come across much like its characters: earnest, intense and often suffocating. Winning of the top prize in the newly-revitalised Un Certain Regard section 2021 - under Jury president Andrea Arnold - will guarantee further festival play, while he rubber stamp of Alexander Rodnyansky and Sergey Melkumov, who produced Andrey Zvyagintsev's last three features and Kantemir Balagov's Beanpole (which won Un Certain Regard's Best Director award in 2019), will also help secure this challenging feature's future.
Kovalenko and her DoP Pavel Fomintsev reflect this bitter, claustrophobic environment through a camera that clings to the characters much as they cling to each other
The setting is Mazur, in North Ossetia, a town nestled against stark cliffs. There isn't much to see; the overwhelming sense is of concrete hugging grey rock, a desolate drabness. The apartment where Ada (Milana Aguzarova) lives with her father Zaur (Alik Karaev) and doting younger brother Dakko (Khetag Bibilov) is a slab that could be a retro-futuristic prison block.
And it might as well be a jail, not least since Zaur has the only key, and only lets his grown children out of the house to work. The man is a snake, interrogating Ada's every move, smiling as he orders her to pour her perfume down the sink, hiding her passport. Most heinously, he is preventing her from having an operation that will enable her to fully recover from a terrible childhood injury and, perhaps, move on with her life.
The implication is that Ada's mother has died, some time before. Her only hope is her older brother, Akim (Soslan Khugaev), who has managed to escape dad's clutches to work in Rostov. And now he has returned, to liberate his sister. Is it too late? Ada tells Akim that, "I'm out of time. I might stay like this." She's referring to her physical condition, but the real problem may be that she's been held back for so long that she's become mentally ill. She certainly makes her brother's task extremely difficult.
Kovalenko and her DoP Pavel Fomintsev reflect this bitter, claustrophobic environment through a camera that, for the most part, clings to the characters much as they cling to each other. And this is a significant problem for the film: none of them, including Ada herself (though she is, painfully, the chief object), can keep their hands off each other – pawing, fondling, grabbing, holding each other so tightly that it hurts; the sheer neediness is wearing.
And at times, it's disturbing. Ada's male admirer in the town is a repellently insistent individual whose response to this inexperienced and traumatised young women finally opening up to him is to effectively rape her.
The clenched fist of the title is Zaur's, and his physical cramp is a good metaphor for a weak and selfish man's inability to let go of his children. Performances are good, particularly Aguzarova, who navigates a tricky part as best she can, and Bibliov, who lends the older brother – one of the few sane people in view – a watchful, grounding presence. But overall, the film's treatment of a sensitive scenario can lacks subtlety, making for a tough and taxing vieweing experience.
Production company: Non-Stop Production
International Sales: Wild Bunch sales@wildbunch.eu
Producers: Alexander Rodnyansky, Sergey Melkumov
Screenplay: Kira Kovalenko, Anton Yarush, wih Lyubov Mulmenko
Production design: Sergey Zaikov
Cinematography: Pavel Fomintsev
Editing: Mukharam Kabulova with Vincent Deyveaux
Cast: Milana Aguzarova, Alik Karaev, Soslan Khugaev, Khetag Bibilov, Arsen Khetagurov, Milana Pagieva