A family fight for survival in their home amongst the gravestones of a Manila cemetery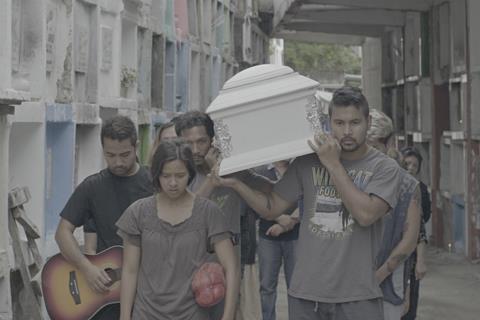 Dir/scr. Daniel R Palacio. The Philippines. 2017. 84 mins.
In the Manila cemetery at the centre of Underground, poverty-stricken families don't merely take a walk amongst the tombstones — they sleep, eat, work and live alongside the dead. A grim, gritty and emotionally galvanising feature debut by Daniel R Palacio, this Filipino offering plays like Brillante Mendoza's raw social realist best meets The Florida Project's glimpse at the society's overlooked denizens meets a morbid, moving heist film - and it's a taut, tense and terrific combination. That Mendoza executive produces and acts as creative consultant is evident in every frame, but his protégé proves an impressive new talent in his own right.
Underground presents its resting ground-turned-residence with an unflinching gaze.
While there's no shortage of movies chronicling the dire depths endured by the struggling poor, be it in The Philippines or elsewhere, Underground carves its own niche courtesy of its location — and the feature should carve out considerable global festival play as a result. A small film that digs deep to leave a substantial imprint, it has already jumped from San Sebastian's New Directors sidebar to a Tokyo berth. General theatrical prospects might not be as promising outside of its homeland, but this is an effort that deserves to be seen by a wider audience.
With its labyrinthine stacks of sealed coffins in every direction, Palacio's feature catches the eye and sparks intrigue from the outset. Its surroundings are no flight of filmmaking fancy, with the real-life spate of squatter settlements springing up amongst graveyards well documented in recent years, and actual figures inspiring the characters seen navigating their towering sprawl.
From desperate inhabitants breaking through cement to rob bodies of gold and jewellery, to children playing between mausoleums and to mini-households set up in casket-filled crypts, Underground presents its resting ground-turned-residence with an unflinching gaze. Favouring a documentary-style look, cinematographer Rommel Sales never shies away from the film's plethora of stark sights; similarly, fine-tuned sound design refuses to provide a moment of reprieve.
Amidst tear-strewn interments and intermittent visits by council workers tasked with evicting the site's still-breathing dwellers, Bangis (Joel Bascon) and Barbie (Mara Lopez) try to eke out a modest existence. It's the kind of life where rifling through bones and using plastic bags as a toilet is commonplace, but, along with pre-teen daughter Ningning (Grace Ann Betalmos), at least they're together. He buries the deceased for cash, she carries around their meagre earnings in a plastic piggy bank, and their daughter yearns for a plastic Hello Kitty ring. Alas, the girl is also increasingly unwell, but seeking medical assistance is a luxury they can't afford. As her condition worsens, so does Bangis' determination to rustle up the funds to get help.
An early instance of the red-shirted action line forcing occupants out of their necropolis homes infuses the film with a despairing, urgent tone as Sales' roving, frenetic efforts get a significant showcase, but that's just the entree for Underground's stellar and stirring centrepiece. Faced with stealing a fresh corpse to make some money for Ningning's treatment, Bangis' late-night pilfering furnishes a virtually silent extended sequence that's as bleakly thrilling as it is aesthetically arresting. With the do-or-die stakes are unavoidable and never in doubt it's also loaded with feeling, but never cloying or overbearing in its heartstring-tugging.
Indeed, scripting as well as directing, Palacio demonstrates ample skill in plotting a narrative arc that's obvious overall, but still packs a hefty punch as it presents a sombre societal reality and comes loaded with impassioned political commentary. Casting also proves astute, particularly the experienced Bascon as the resounding, resolute, resonant lead — who, like the film itself, has a definite pulse.
Production company / contact: Centre State Productions, brillante_ma@yahoo.com
Executive producer: Brillante Ma. Mendoza
Producer: Carlo Valenzona
Cinematographer: Rommel Sales
Editor: Diego Marx Dobles
Production designer: Harley Alcasid
Costume designers: Jhelai Lanares, Ruffa Lovino
Composer: Teresa Barrozo
Cast: Joem Bascon, Mara Lopez, Grace Ann Betalmos, Ryan Sandoval, Jun Nayra