Actor turned writer-director Miranda Nation's feature debut turns grief and motherhood into a psychological thriller.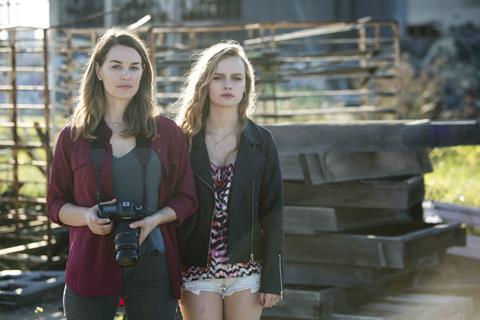 Dir/scr. Miranda Nation. Australia. 2018. 96 mins.
There's a fine line between emotional desolation, obsession and paranoia in Undertow, as a grieving woman channels her pain over the loss of her unborn child into a fixation with a pregnant teenager. Making a moody, confident feature debut, actor turned writer/director Miranda Nation takes the drama of mourning and impending motherhood, and spins it into psychological thriller territory with an added dose of topicality. As the film's complex central relationship plays out in the coastal Australian city of Geelong, it does so against a backdrop of footballers behaving badly; particularly in regards to women.
Infusing the toxic side of sporting culture into the storyline ties firmly into Undertow's setting — not only Nation's hometown, but an Australian Rules football stronghold — though it's a connection that will mean more to local viewers than to those elsewhere. Still, the strength of the feature's performances, the inclusion of The Visit and Better Watch Out's Olivia DeJonge among the cast, and the potent, poetic visuals of cinematographer Bonnie Elliott (These Final Hours, Spear) could see the film gain modest traction after its Melbourne premiere. Internationally, streaming platforms could also provide a path to a broader audience.
Photojournalist Claire (Laura Gordon) finds herself drawn to Angie (DeJonge) after spying the livewire teen entering a motel with Claire's husband Dan (Rob Collins). With things at home still raw, tense and tinted by loss, rather than instigate a confrontation Claire starts to follow the girl. Angie quickly notices, asks if Claire is a modelling talent scout, and agrees to pose for photographs anyway, with an awkward rapport forming between the two women. The wiry, wary yet still naive Angie never lets her guard down, even when she reveals that she's expecting. In fact, she only shares the personal tidbit while asking Claire what she'd pay for a juicy story.
Undertow introduces its footballing thread early, crosscutting between the traumatic end of Claire's pregnancy and a raucous party involving Angie, Dan and Dan's wayward footballer pal Brett (Josh Hellman). That said, Nation is in no hurry to stress its relevance, proving patient across the feature's 96-minute running time as she slowly joins the various (albeit obvious) dots.
It's an approach that hones in on Claire and Angie, not only placing their various struggles — with each other, with their pregnancies, and with the men around them — at the core of the narrative, but aligning the viewers with Claire's fragile mindset. As her distress grows in tandem with her concern for Angie's baby, the movie sinks deeply into subjectivity, calling into question the character's grasp on her situation.
Knotty relationships between women — and thorny issues of femininity that come with it — inform only a tiny portion of Australian cinema; however Undertow sits alongside recent efforts Bad Girl and The Second as a determined attempt to redress the status quo. What distinguishes Nation's feature is its willingness to examine the double-edged sword of pregnancy: welcome by some, unwelcome to others, but uncertain even to those who want it most. Indeed, as Elliott continually roves her lens over the restless sea, and Nation frequently includes images of water and blood combining, the ebb and flow of life seethes through the film.
As Claire, Gordon (Joe Cinque's Consolation) conveys that push-and-pull through a subtle, powerful performance. There's never just one emotion flickering in her expressive eyes; the character's journey between pleasure, pain, compulsion, control and catharsis is commandingly handled. While it's the film's standout part, DeJonge makes a forceful impact as the younger, more reckless and ruthless of the pair, adding another impressive notch to her growing resume. And, in what's essentially a four-hander, both Collins (Australian TV's Cleverman) and Hellman (Mad Max: Fury Road) bring complexity to men who are never mere heroes or villains, instead remaining shaped by their choices.
Production companies: Undertow Pty Ltd
International sales: Mongrel Media, info@mongrelmedia.com
Producer: Lyn Norfor
Production design: Penny Southgate
Editing: Julie-Anne De Ruvo, Nick Meyers
Cinematography: Bonnie Elliott
Music: Marianne Jade
Main cast: Laura Gordon, Olivia DeJonge, Rob Collins, Josh Helman