A young single mother in Iran searches for a safe place for her baby for one night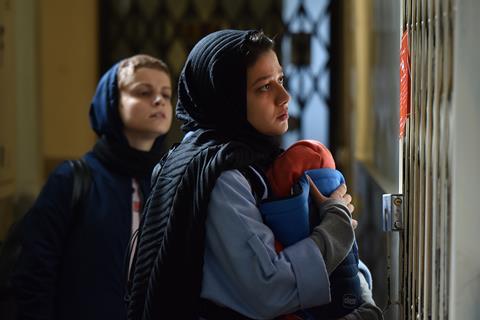 Dir: Ali Asgari. Iran/France/Qatar. 2022. 86 mins.
What's worse than being a young single mother in present-day Iran? Perhaps it's being a young single mother in present-day Iran whose parents don't yet know they're grandparents. In his second feature, Ali Asgari builds a tense and resonant drama from this most simple of premises, one that hinges on a moving performance by the director's niece, Sadaf Asgari – who also starred in his 2017 debut, Disappearance, which also dealt with a very similar theme in a condensed time frame.
Vibrates with sympathy for its young protagonist
An expansion of the director's 2014 short The Baby, Until Tomorrow vibrates with sympathy for its young protagonist but has a lot to say about the way younger generations in Iran right now are picking away, thread by thread, at the country's suffocating web of legal and social censure. While it lacks the rich moral complexity of widely distributed Iranian dramas such as Asghar Farhadi's A Separation, Until Tomorrow should nevertheless find arthouse distributors, and audiences, willing to take a gamble on its concise yet effective 85-minute emotional journey, and will undoubtedly rack up further festival engagements after its Berlinale Panorama premiere.
Though a repressive society is soon conspiring to trip her up, it doesn't escape us that Sadaf Asgari's character Fereshteh is first seen living alone in her own apartment with a two-month-old baby daughter, discussing on the phone some freelance graphic design work she's due to deliver. Is this a new Iran? Of course not, or at least, not yet. Asgari's expressive face soon clouds over when she gets a call from her parents to say that they're arriving in Tehran that evening from somewhere in the provinces. It's clear that they don't know about the baby. For the next 80 minutes, we watch an increasingly desperate Fereshteh try to deal with the issue.
She's helped by best friend Atefeh (Ghazal Shojaei), a smart, no-nonsense university student who wears her red hair in a punky crop beneath her hijab. Together, they roam the city looking for someone who can take the child for the night. Until Tomorrow clearly shows how in societies where surveillance and suspicion reign, every call for help carries a risk. A white lie told to a neighbour who she is trying to persuade to accept a box of baby things lands Fereshteh in trouble with her landlord, while a nurse who may be able to look after the infant leads to the film's most chilling episode, in which a hospital director played with finely controlled menace by film editor and character actor Babak Karimi (the judge from A Separation) offers Fereshteh his help, for a price.
There are lighter moments. On a bus, Fershteh and Atefeh discuss getting out of Iran – perhaps to Alaska? "Even in Alaska there will be some Iranians running a kebab shop who turn out to be my relatives," the young mother comments drily. In another sequence, shot in retro back-projection mode, Fershteh, Atefeh and baby are given a lift across the city on a motorbike – making five on board in all, if you count the bottom-feeding aquarium fish they've just been forced to purchase.
But these are interludes, brief vents of young female life-force, in a drama that soon racks up the tension once again. The mostly handheld camera gives even moments of stillness a flutter of adrenalin, and there's a beautifully expressive use of colour, with the baby girl's pink clothes standing out like warning flares against a dark blue-green background. The most transfixing moment, however – both visually and emotionally – comes towards the end. Fereshteh is in a taxi, and the camera rests on her face for four uninterrupted minutes as waves of feeling break over it and a sudden realisation dawns. It's a bravura performance, and a one-shot scene to file alongside the greats.
Production companies: Silk Road Productions, Novoprod Cinema, Taat Films, Premium Films
International sales: MPM Premium, quentin@mpmpremium.com
Producers: Niki Karimi, Raphaelle Delauche, Nicolas Sanfaute, Ali Asgari
Screenplay: Alireza Khatami, Ali Asgari
Editing: Ehsan Vaseghi
Cinematography: Roozbeh Raiga
Music: Ali Birang
Main cast: Sadaf Asgari, Ghazal Shojaei, Babak Karimi, Amirreza Ranjbaran, Nahal Dashti, Milad Moayeri, Katayoun Saleki, Mohammad Heidari