A group of Moroccan strangers come together in an overburdened Casablanca hospital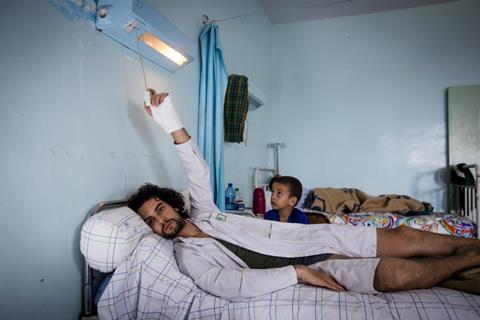 Dir. Mohcine Besri. Switzerland-Morocco. 2018. 85 mins
A disparate group of Moroccans cross paths in a Casablanca hospital, in a well-crafted and affecting drama whose healthcare in crisis theme will strike a universal chord. With his second feature (after 2011's terrorism drama The Miscreants), Moroccan writer-director Mohcine Besri displays a good nose for a socially conscious story, an appealing eye for locale and a mordant sense of humour that promise much for future projects.

Besri creates a number of beautifully observed interactions
Urgent starts on a motorway, that singular location for establishing interconnecting narratives. A young man is preparing to jump off a bridge. A passing peddler stops alongside, not to talk him down, as you might expect, but to casually relieve the stranger of his final pack of cigarettes – and then his clothes.
It's a funny, cynical and shocking opening, which only gets better as the failed suicide (the hapless chap lands on some sheep) causes a traffic jam in which we meet the film's other protagonists. Besri and co-writer Cécile Vargaftig are particularly adept here; even the briefest, seemingly innocuous piece of dialogue will qualify the speaker for a meaningful role as the drama settles into its principal location, the hospital.
At its heart are a fisherman, Driss (Rachid Mustapha) and his wife Zahra (Fatma Zahra Banacer), who have travelled to the city in order to seek treatment for their five year-old son, Ayoub, who is suffering from severe headaches. First they call on Driss's ducking and diving brother Houcine (Saïd Bey), who owes him a huge sum of money. Though Houcine is not about to pay up, he insists on joining the family as they head for the hospital.
The couple learns two things: that Ayoub is seriously ill, and that the under-resourced hospital won't be able to help him any time soon. Although care is supposed to be free, only cash will speed things up. In the first instance, Zahra pawns her jewellery in order to pay for a private scan; but when it's determined that the boy needs urgent surgery, there's nothing they can do.
Once he has established that dilemma, Besri remains in the hospital and its environs, focussing attention on the family's desperate waiting game. He also brings other characters into play: a conscientious doctor who tries to respond to the urgency of the boy's condition but is stymied by the chief surgeon, whose own mind is turned to private practice; the shady admissions clerk, who illegally charges patients for a bump up the waiting list; Houcine's sympathetic girlfriend; and the would-be suicide, Ali, who is recovering from no more than a broken ankle and wanders the hospital halls on his crutch, bumming cigarettes and acting as a sounding board for the other characters' problems.
All the while the camera takes in the hospital's unseemly gridlock (the film has moved from one traffic jam to another), the corridors full of people waiting, sleeping on stretchers, begging for attention. Ali never quite reveals why he sought to kill himself, but he's a watchful, thoughtful man who wryly sums up what he sees: "They won't let you die in peace. And when you want to live…"
The scenario brings to mind Cristi Puiu's The Death of Mr. Lazarescu, but Urgent lacks the satirical edge of the Romanian's film, and Besri makes the dramatic mistake of letting Saïd Bey's splendid scallywag fade from view, while slowing the pace with too much of the morose Ali. Yet he does create a similarly mesmerising portrait of a damaged and cynical system.
Besri also creates a number of beautifully observed interactions, including Zahra and Najia's barter with the pawnshop owner, the crooked orderly's lunch break with his daughter, whose need for money for her schooling elicits another tour of the corridors in search of bribing opportunities, and Houcine's amusing effort to bring football into the wards. Though pessimistic, the film is shot through with a defiant humanity.
Production company/international sales: Louise Productions Lausanne lausanne@louiseproductions.ch
Producers: Elisa Garbar, Lamia Chraibi, Michel Merkt
Screenplay: Mohcine Besri, Cécile Vargaftig
Editing: Naïma Bachiri
Cinematography: Denis Jutzeler
Music: Walead Ben Selim
Main cast: Rachid Mustapha, Fatma Zahra Banacer, Youssef Alaoui, Saïd Bey, Ghalia Ben Zaouia, Ayoub Layoussifi, Younes Bouab, Hakim Noury, Zakaria Alifi