Dir: Robin Swicord. US, 2016. 108 mins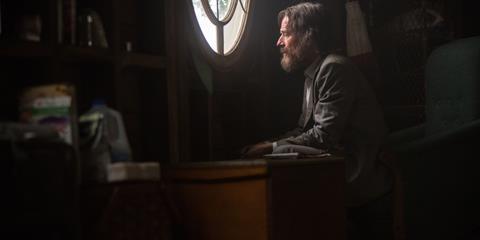 A man walks out on his life by moving to the garage in Wakefield, an intriguing character study that's not as darkly subversive as its best moments portend. Bryan Cranston gives a nicely layered turn as a lawyer whose desire to free himself of domestic drudgery conflicts with his stubborn insistence that his family mourn his mysterious absence, but writer-director Robin Swicord's probing, intentionally farfetched film ultimately settles for resolving its tricky questions about identity and community in pat ways.
Robin Swicord has crafted an elegant, slightly spiky rumination about a universal daydream: chucking a conventional life and starting fresh
Wakefield will attract buyers thanks to Cranston and co-star Jennifer Garner's box-office appeal. This adult drama should cater to older art-house crowds, who will be drawn by good reviews for Cranston's almost-one-man-show performance.
Based on an E. L. Doctorow story, Wakefield introduces us to Howard (Cranston), a New York attorney who, almost on a whim, decides one night on the way home to his suburban household not to see his wife Diana (Garner) and twin teen daughters. Instead, he scurries to the attic above their detached garage, never telling his family where he is. Confining himself to the garage and looking out the window onto the house, Howard speaks his thoughts to the audience through voiceover as he observes how Diana and his children react to his disappearance over a series of months.
Swicord, directing her first feature since 2007's The Jane Austen Book Club, has crafted an elegant, slightly spiky rumination about a universal daydream: chucking a conventional life and starting fresh with a new, unfettered one.
At first, Wakefield promises to examine that fantasy while critiquing the selfishness that goes into such a thought process. Unlike many films about a well-off white American male suffering a midlife crisis, Swicord's drama initially refuses to coddle its protagonist's self-pity, quickly exposing Howard as a sour narcissist out to punish his family for underappreciating him. And because Howard tells us about his family rather than letting us observe for ourselves — he's often alone on screen, everyone else seen through windows or in flashbacks — we recognize that his suburban angst is strikingly unremarkable, the character unknowingly revealing his own pettiness and inability to empathise with others.
Cranston taps into the casual cruelty that was the hallmark of his Emmy-winning Breaking Bad portrayal, as he again plays a character who doesn't grasp his rottenness because he's too busy feeling sorry for himself. Granted, Howard doesn't kill people like Walter White did, but, in a way, his wilful exit from his family is a more intimate evil, especially as he watches over them from the safe purview of the garage, studying the effects of his unexplained departure like a voyeur.
Swicord and her star walk the line between showing Howard as an unwitting monster and allowing for some humanity to develop. Even the film's unlikely setup is mostly an asset, the growing suspension of disbelief required to accept that Howard could maintain his vanishing act serving as a commentary on the absurdity of him wanting to do it in the first place. And Garner gives Diana appealing opacity; we don't know if what we're seeing is the real her or the skewed person Howard envisions.
Unfortunately, Wakefield eventually pivots away from Howard's misanthropy to offer him a kind of redemption. Cranston remains magnetic even as the film goes soft, but it's disappointing that Swicord angles for a bastard like Howard to discover how good his life is and to realize his own shortcomings. Although Wakefield's ending leaves open the possibility for multiple interpretations, the filmmaker removes the sting from her story's tale, which keeps its insights from cutting as deep.
Production companies: Mockingbird Pictures, Dominion Films, Foolish Mortals
International sales: Red Granite International, cmercuri@redgranitepictures.com
US sales: United Talent Agency, Ronson_R@unitedtalent.com
Producers: Julie Lynn, Bonnie Curtis, Elliot Webb, Wendy Federman, Carl Moellenberg
Executive producers: David Boies & Stephanie Pinola, Luigi & Rose Caiola, Gayle & Joel Gardner, Alex Guez, Rob Hinderliter & Dominick LaRuffa Jr., Kevin Lamb, Maria J. McDonald, Ruth Mutch, Brandon Powers, Bobby Sain, Iris Smith
Screenplay: Robin Swicord, based on the short story by E. L. Doctorow
Cinematography: Andrei Bowden Schwartz
Production design: Jeannine Oppewall
Editor: Matt Maddox
Music: Aaron Zigman
Main Cast: Bryan Cranston, Jennifer Garner, Jason O'Mara, Beverly D'Angelo, Ian Anthony Dale