An epic documentary looks at duplicitous American president Richard M Nixon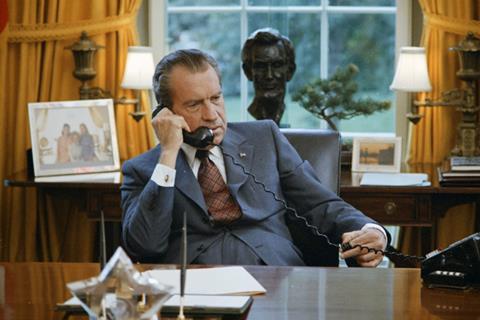 Dir: Charles Ferguson. US. 2018. 260 mins
He was a polarising leader, dividing Americans and in constant battles with the press. He was surrounded by shady advisors – many of whom would end up indicted – and lashed out publically at people he was convinced were out to get to him. And eventually, albeit with a little help, Richard M. Nixon self-destructed.
Ferguson's approach can be a kind of catch-all at times, mixing historic footage, contemporary interviews and dramatic re-creations
Charles Ferguson's marathon documentary Watergate is an exhaustive look at the scandal that finally brought him down. At more than four hours, the film, which is having its European premiere in Berlin, is unlikely to have a huge big-screen life; in the US, it had a limited theatrical run late last year before playing in hour-long episodes on the A&E History Channel (the cable out let also holds some international rights, with Dogwoof selling Europe, Asia and other key territories). For audiences interested in ugly American history past and present, it's guaranteed to fascinate.
After quickly establishing the late '60s turmoil that enabled Nixon's election, Ferguson – whose previous political docs include Time to Choose, about climate change, and Oscar-winning Inside Job, about the 2008 financial crash – examines the paranoia that slowly soured his presidency. The real tragedy, Ferguson suggests, is that Nixon was an intelligent man, with some bold ideas. But his lifelong resentment of "the elites" caused him to obsess over institutions like the press and the Democratic Party, both of which he felt were full of snobbish, Ivy League hypocrites. (The great irony, as Ferguson points out, is that one of the reporters instrumental in taking Nixon down was Bob Woodward, a Republican who had proudly voted for him in '68.)
Nixon's perpetual distrust of everyone led him to prize loyalty; something he fatally confused with obedience. So there were plenty of staffers, like H.R. Haldeman and John Ehrlichman, who did whatever Nixon wanted them to, and no one to warn him when he was going too far.
Ferguson's approach can be a kind of catch-all at times, mixing historic footage, contemporary interviews and dramatic re-creations based on the president's own infamous secret tapes. The old clips and new sit-downs include plenty of surprises, such as John Dean describing Nixon advisor G. Gordon Liddy as "a nutcase" who had plans to kidnap anti-war activists and lock them up in Mexico. Or that the administration once had plans to firebomb the liberal Brookings Institution. Scenes with actors don't convince, however. Douglas Hodge, who plays the president, seems unhinged from the start, as if Jack from The Shining had somehow ended up in the Oval Office. And Elliot Levey's performance as Henry Kissinger is strictly high-school drama club stuff.
But it's striking to see how perfectly cast the real-life people were. Like special prosecutor Archibald Cox – a straight-arrow with a crew-cut and a bow-tie who radiated old-fashioned, small-town decency. Or handsome attorney general Elliot Richardson, who steadfastly refused to go against his own principles – and would have made a great Atticus Finch, if Gregory Peck hadn't landed the part first. In fact, it's hard not to see America's current situation as a B-movie remake of a better-budgeted classic. They had Rep. Barbara Jordan, Rep. Elizabeth Holtzman and Richard M. Nixon; we have Rep. Maxine Waters, Rep. Alexandria Ocasio-Cortez and Donald J. Trump. The story is similar, but the cast isn't quite the same. Watergate is a fascinating film that both draws disturbing parallels and offers the opposition encouragement.
Production company: Representational Pictures
International sales: Dogwoof info@dogwoof.com
Producers: Charles Ferguson, Krista Parris
Screenplay: Charles Ferguson
Production design: Joe Barcham
Editing: Amy Foote, Joe Garrity, Cindy Lee, Hemal Trivedi
Cinematography: Shana Hagan, Yuanchen Liu, Dennis Madden, Daphne Matziaraki, Morgan Schmidt-Feng
Music: Ben Holiday