Dir/scr: Grzegorz Zariczny. Poland 2016.  78 mins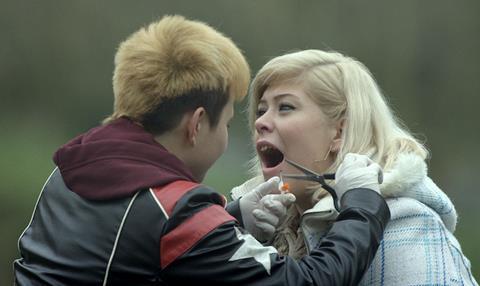 A young woman's quest to make a better life for herself is acutely observed and felt in Waves. Writer/director Grzegorz Zariczny emerged as a talent to watch from his short films and documentaries, including The Whistle (2012), which won the Grand Jury Prize at Sundance. Waves delivers on that promise, creating a nuanced, sure-footed portrait of an individual who feels typical of an entire lost generation of Europeans struggling to overcome global economic forces and personal circumstances.
Kesek and Kopec create a very convincing portrait of a teenage friendship.
Social realism leavened with hope and humour, Waves carries echoes of the Czech New Wave and should travel extensively across the Festival circuit following its world premiere at Karlovy Vary.
Drawn from the personal experiences of the two leads (both non-professionals) and based around extensive improvisation, Waves has the potential to feel baggy or garrulous. Instead, Zariczny's film is focused and finely judged, capturing the sense of a life in a compact running time.
Ania (Anna Kesek) and Kasia (Katarzyna Kopec) are teenagers in Nowa Huta, a suburb of Krakow nestling beneath the pall of belching factory chimneys. Both of the girls are studying to become hairdressers. Kasia is a natural; a hard-working, fun-loving A-student full of promise. Ania struggles to master the basics and the tricky art of creating waves. A bond blossoms into a nurturing friendship and a tacit understanding that they find themselves in a similar situation; venturing into an unknown adult future reliant on their own resources to pull them through.
Kesek and Kopec create a very convincing portrait of a teenage friendship. There is a spontaneity and affection in their relationship that makes us immediately warm to both of their characters. Zariczny also displays a confident sense of pacing, allowing us to engage with the girls whilst starting to hint at some of the domestic problems they may have faced.
Kasia's home life is far from supportive, whilst Ania's attentive father (Tomasz Schimscheiner) seems to be working too hard to make amends for his previous wrongdoings. Ania's mother (Beata Schimscheiner) also re-appears like a ghost from the past, haunting her daughter's steps and seeking to re-establish a relationship that is badly fractured. The girls seem living proof of the Philip Larkin lines: "They fuck you up, your mum and dad. They may not mean to, but they do."
Zariczny's documentary instincts are evident in Waves as he reveals a keen eye for character and atmosphere. The girls' boss is a beehived blonde with a look that could be straight out of Absolutely Fabulous and a worldweary attitude that speaks volumes. A local park is populated by fascinating background characters including a one-legged old man in a wheelchair and his extremely affectionate dog. There is texture, feeling and a sense of authenticity throughout. Cinematographer Weronika Pietras also makes a significant contribution, firmly placing the story in a backwater where teenagers meet in park corners and forlorn public spaces shrouded in autumnal mists.
Zariczny also reveals an ability to get the most out of his non-professional performers. Katarzyna Kopec is charming and completely at ease as she conveys the sweet nature and sensitivity of Kasia. Anna Kesek may be close to Ania in real life but that is no guarantee she can bring those qualities to the screen. She is a confident, charismatic performer with all the sulky sullen moods of a teenager and expressive eyes. Her rueful glances and resentful glares provide a repertoire of looks that could kill. She is completely engaging and has all the viewer's sympathy as Ania comes to realise that the only one who can change her life is herself.
Production companies/international sales: Munk Studio, Polish Filmmakers Association, studiomunka@sfg.org.pl
Producer: Ewa Jastrzebska
Cinematography: Weronika Bilska
Editor: Bartek Pietras
Production Designer: Grzegorz Piatkowksi
Cast: Anna Kesek, Katarzyna Kopec, Tomasz Schimscheiner, Beata Schimscheiner
ends