Four orphaned Japanese teens team up to form a rock band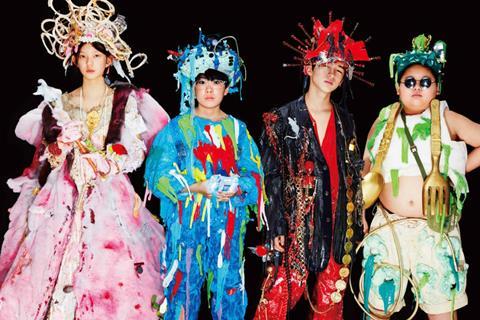 Dir/scr: Makoto Nagahisa. Japan. 2019. 120 minutes
There's a hyper-fast pace and a hectic number of cuts in Makoto Nagahisa's debut We Are Little Zombies, a film whose welcome wears thin in a similarly rapid fashion over a hard-to-indulge two-hour running time. Viewing his multi-media story of four orphan teenagers who meet at a Tokyo crematorium conjures up the sensation of being kidnapped inside the kind of Gameboy which provides the 8-bit soundtrack base to the film. Fitfully-entertaining, the film says many things in many different ways about one subject – the de-sensitising effect of the have-it-all media age on young people. Prolonged exposure to it will certainly reawaken the senses, although not in a way that's always welcome.
While it's an understatement to say this film is busy, the suspicion is that it's busy saying not very much
Competing in the Sundance World Cinema section, this story about four orphaned 13-year-olds who half-heartedly form a band will next move on to Berlin, where it opens Generation 14Plus. And festivals on the lookout for Japanese product in a thin time for the country's exportable output may be attracted by the noise. (This is also the trajectory for Lukas Moodyson's ostensibily similar We Are The Best.) Yet last year's wonderfully slim Jesus, which also dealt with death in a child's life, still resonates to drown out the Zombie racket. Looking as if it might have been made on a phone, the ADHD We Are Little Zombies may best be consumed that way by its younger-skewing audiences.
Nagahisa opens the film with a prologue to the meeting of Hikari, Ikuko, Ishi and Takemura at a Tokyo crematorium. The bespectacled Hikari narrates throughout, his deadpan, sardonic tone reinforcing the onscreen world-weariness of these orphaned children. His neglectful parents, who had been on the point of divorce, have been killed after their bus overturned on an "All You Can Eat Strawberries" expedition. Alone in the apartment, and glued to his Gameboy and all the other electronic toys they have bought for him as compensation for their utter lack of interest, Hikari is unable to express any emotion at their death.
We Are Little Zombies is undeniably strongest in its opening sequences. Nagahisa piles on the cuts, the eye-popping colour, black-and-white, fast and slow motion, flashes back and forward, animated tweaks and stills to detail the funeral procedure, from a drunken dinner to the crematorium where Hikari, who is mercilessly bullied at school, meets his new friends. Occasionally funny, it's a lot like the Barry Sonnenfeld TV version of A Series Of Unfortunate Events, albeit without the required discipline.
It's when Nagahisa introduces the back stories of the other three children in a similar fashion that realisation dawns that We Are Little Zombies is a long-haul flight. They all have bad parents. Portly Ishi lives in a restaurant/karaoke bar which explodes when his father is careless with the cabling. Takemura's abusive father and his battered mother commit suicide in mysterious circumstances. Moody Ikuko inspires obsession in everyone she meets, which results in her parents being murdered by her crazy piano teacher. Despite the rapid-fire delivery, the first hour moves slowly as Nagahisa moves to the point where the children end up in a garbage dump and decide to set up a band. And that's before a faux documentary, a social media campaign vilifying the bus driver, dream sequences and a 'zombie attack'.
While it's an understatement to say this film is busy, the suspicion is that it's busy saying not very much. If you strip the novelty away from the Japanese cultural trappings, and imagine a film like this being made about four 13 year-olds in Paris or Berlin, for example, indulgence dries up. The songs are run-of-the-mill, the computerised soundtrack is difficult to love, and the visual style is deliberately a pastiche. All well and good, as viewers of the director's similarly-made short And So We Put Goldfish In The Pool may readily agree. Yet running with the tagline "Life is Like A Shit Game" may be tempting fate.
Production company: Robot Communications Inc
International sales: Nikkatsu, m.furukawa@nnikkatsu.co.jp
Producers: Taihei Yamanishi, Shinichi Takahashi, Haruki Yokoyama, Haruhiko Hasegawa
Screenplay: Makoto Nagahisa, Taihei Yamanishi, Shinichi Takahashi
Cinematography: Hiroaki Takeda
Production design: Yukiko Kuribayashi
Editor: Maho Inamoto
Music: Makoto Nagahisa
Main cast: Keita Ninomiya, Satoshi Mizuno, Mondo Okumura, Sena Nakajima