Dir. Stephen Kijak. UK/US/Japan, 2015, 92 mins.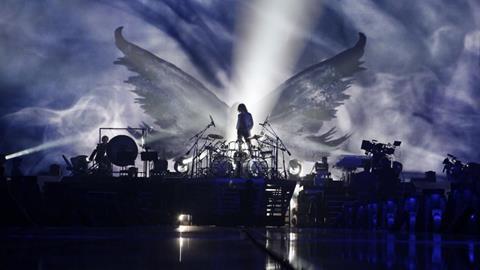 Stephen Kijak's documentary We Are X celebrates glam/metal rock band X Japan, pioneers of the outlandish 'Visual Kei' look. Their story, although it's true, flirts with Spinal Tap territory, comprising crazy costumes, suicides, a brainwashing cult, and an enigmatic, androgynous, sensitive leader called Yoshiki ("his entire body was emanating death!") who flirts with baring his soul for the cameras he's clearly in control of.
Yoshiki is a cagey, enigmatic character, and there's much here that still remains unsaid.
There's enough in We Are X to satisfy the band's hordes of fervent fans, while still impressing those who have never heard of X Japan; some concert sequences are crazy, magnificent, rock and roll madness. Think of a moody KISS, add some Bowie costumes, a Guns n' Roses strut, and shake vigorously (Yoshiki, in fact, needs to wear a neck brace from 30 years of committed headbanging). No matter what you think of the music, Visual Kei makes quite an impression.
There's a whiff of tie-in to We Are X, though, which coincides neatly with a new studio album from the band, and a singular lack of humour which could stop it short of wider theatrical exposure - X takes itself extremely seriously, as does director Stephen Kijak. The act's success rests on its dark manga moodiness, and Yoshiki can come across as almost depressive. Yet the costumes are an absurd, peacock-like contrast. Festivals should love We Are X, particularly those with music strands, and this rock doc has very solid TV potential. Japanese and big-city art-house play is possible. The film premiered at Sundance, accompanied by an appearance by Yoshiki, the band's leader.
Kijak is an experienced documentarian, last seen delivering a Backstreet Boys film but best known for Scott Walker: 20th Century Man. Framing his feature with X Japan's 2014 Madison Square Gardens gig is an arbitrary editorial peg ("they've never played it before!"), but it's as good a place to start as any, before the launch of X's new album in March 2016. The film focuses on the deliberately evasive figure of Yoshiki, a pallid, beautiful doll-like creature whose physical health is constantly in question.
X Japan is Japan's must successful rock band, with 30 million albums sold and a record number of sell-out Tokyo Dome performances (the venue seats 55,000 people). Despite signing to Atlantic Records early on, however, the band never crossed over to the US market. Set up in 1982 by drummer Yoshiki and singer Toshi – they'd known each other since the age of 4 – it was disbanded in 1997 and re-formed in 2008, but the lineup had undergone some seismic changes.
These rockers and school friends had been superstars their whole adult lives, having signed their first big domestic deal by the age of 20, but X Japan broke up in 1997, when Toshi was, he admits, brainwashed by a cult. Other calamities have befallen the band, chief amongst them the death of guitarist Hide in 1998, which resulted in five copycat suicides amongst fans (another bass player, Taiji, also died by his own hand). Yoshiki opens up to discuss the effect the loss has had both personally and professionally, but he's a cagey, hidden character, and there's much here that still remains unsaid.
Concert footage is splendid, even if the music itself can feel a little shouty, while editing from Mako Kamitsuna and John Maringouin gives this 92-minute rock doc a good sense of forward thrust as it skips through the last three decades.
Production companies: Passion Pictures
International sales: WME/Preferred Content, lcopland@wmeentertainment.com, kevin@preferredcontent.net
Producers: Jonathan McHugh, Jonathan Platt, John Battsek, Diane Becker
Cinematography: Sean Kirby, John Maringouin
Editors: Mako Kamitsuna, John Maringouin
Music: Yoshiki, X Japan
Featuring: Yoshiki, Toshi, Hide, Taiji, Pata, Sugizo, Heath