Dir. Jake Scott, USA, 2009, 110 minutes.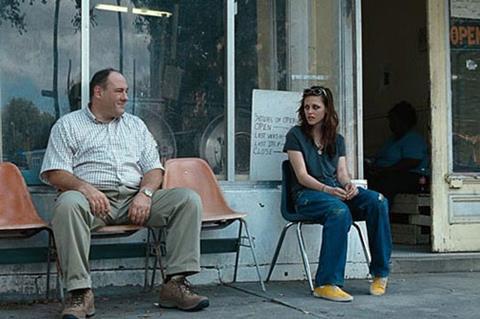 A father (James Gandolfini) still grieving for his dead daughter takes a teenage stripper (Kristen Stewart) under his wing on a business trip to New Orleans with ramifications for his marriage in Jake Scott's earnest but slow-movingWelcome To The Rileys, executive produced by the director's father (Ridley) and uncle (Tony).
Welcome To The Rileys has its heart in the right place, but the drama falters as it veers towards the solemnly earnest. Pacing is slow. Still, this heartfelt portrait of loss and regeneration should enjoy exposure thanks to its marquee cast, enhancing the independent credibility of both Gandolfini and Stewart in the process. This death-obsessed long march may play better in ancillary, however, particularly in the US, while Stewart may help the film in overseas markets.
Scott has directed commercials and music videos but only one feature, Plunkett & Macleane (1999). Here he opts for a deliberate pace, echoing that of Alexander Payne's About Schmidt, as businessman Doug Riley (Gandolfini) journeys from a numbing Indianapolis to the Big Easy after the sudden death of his waitress girlfriend (Davis) who was supposed to travel with him. Doug's wife Lois (Leo) has not left the couple's house in eight years, since their daughter died.
In New Orleans, after meeting the brusque foul-mouthed Mallory (Stewart) in a strip club, Doug settles in with her in a slum apartment in a bizarre platonic relationship.
In an improbable and distinctly implausible plot twist, Doug's wife Lois decides to end her self-imposed isolation in their home, turning up at the hotel and eventually meeting Mallory. Both parents then learn how hard it is to save a lost girl or to find a prostitute's proverbial heart of gold.
Gandolfini and Stewart bring energy and some fine nuances to the would-be father-daughter odd couple, even though Gandolfini's mission to lift Stewart out of squalor and sin is a dramatic stretch. Spitting out curses, Stewart takes to the explosive role of a hooker who shows no interest in being tamed. While she isn't breaking new ground here, she captures the entropy of a damaged angry child.
Leo plays to type as a Midwestern mother locked in her pain after losing a child, and strains credibility when she snaps out of it. Ken Hixon's mournful script doesn't make it easy for the three principals.
Sequences in Indianapolis exploit the area's mind-numbing dullness. DP Christopher Soos establishes a leaden feel there that fits the mood of parents who've been grieving for years.
While the colorful brassy New Orleans seems an ideal natural contrast to the Rileys' home town, and to the torpor of their marriage, Scott makes scant use of locations there to enhance the drama, concentrating instead on his three characters' personal journeys. Strip club settings and the atmosphere of easy sex are barely tapped, either for erotic titillation or a sense of the dangers a teenage hooker might face.
To sign up for Screen's weekly Reviews Newsletter with all the week's new releases, international openings and full festival reviews delivered free to your mailbox every Friday, please click HERE
Production companies
Scott Free Productions
Argonaut Pictures
International Sales
UTA
+ 1 310 273 6700
Producers
Michael Costigan
Scott Bloom
Giovanni Agnelli
Screenplay
Ken Hixon
Cinematography
Christopher Soos
Production design
Happy Massee
Editor
Nicholas Gaster
Music
Marc Streitenfeld
Main Cast
James Gandolfini
Kristen Stewart
Melissa Leo
Eisa Davis
Ally Sheedy