Dir: Mark Steven Johnson. US. 2010. 91 mins.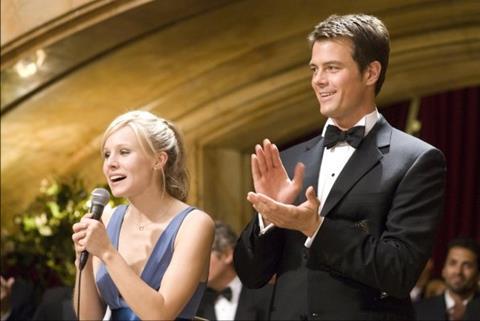 A small stable of recognisable faces in supporting roles cannot save When In Rome, a vapid romantic comedy fable pitched at some fantasy demographic of young professional women who view love as another box to check off on a very long and modern to-do list.
Following on from internationally-flavoured romantic comedies My Life in Ruins and Leap Year - but lacking a commercially proven leading lady - When in Rome should have a brief commercial life before it moves to ancillary. Emphasising its Rome setting may give it a slight bump in certain European territories, but it is shot too flatly to qualify as an exotic travelogue.
Beth (Kristen Bell) is an ambitious, cautious-in-love junior curator at the Guggenheim Museum. On a trip to Rome for her impulsive younger sister's wedding, she meets best man Nick (Josh Duhamel). The two develop a spark, but Beth becomes convinced that he has a girlfriend. Consoling herself with a bottle of champagne, she grabs a handful of coins from a local fountain, magically igniting the passion of those who threw them in. Pursued back to New York by a widowed sausage magnate, a street magician, a would-be painter and a self-admiring model, Beth must sort out whether Nick's continued advances are real, or part of the same band of zany suitors.
Saddled with clunky expository dialogue and baffling character motivations, When in Rome has two settings: broad, and broader. Easy-on-the-eyes leads Bell and Duhamel mostly get by on the strength of their smiles. Through sheer force of will several bit players, most notably Dax Shepard, breathe life into their scenes. A litany of strange cameos, along with a fervently pitched dance-along by the entire cast over the end credits, all seems desperately designed to create the impression that someone is having fun here. It's unlikely to be the audience, however.
To sign up for Screen's weekly Reviews Newsletter with all the week's new releases, international openings and full festival reviews delivered free to your mailbox every Friday, please click HERE
Production company
Touchstone Pictures
Worldwide distribution
Walt Disney Studios Motion Pictures
Producers
Mark Steven Johnson
Gary Foster
Andrew Panay
Screenplay
David Diamond & David Weissman
Cinematography
John Bailey
Production design
Kirk Petruccelli
Editors
Andrew Marcus
Ryan Folsey
Music
Christopher Young
Main cast
Kristen Bell
Josh Duhamel
Will Arnett
Jon Heder
Dax Shepard
Danny DeVito
Alexis Dziena
Anjelica Huston
Bobby Moynihan
Kate Micucci
Luca Calvani
Keir O'Donnell
Don Johnson
Peggy Lipton