Dir: Sabaah Folayan. US. 2017. 103mins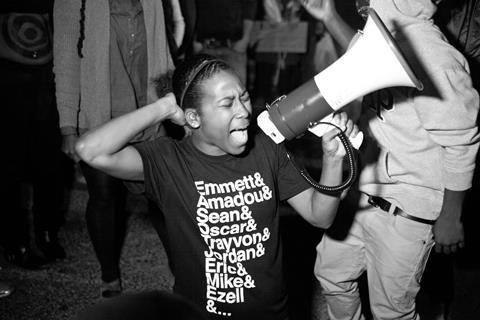 Anger and pain course through Whose Streets?, a raw portrait of the aftermath of the 2014 police shooting of an unarmed black man, Michael Brown, in Ferguson, a suburb of St. Louis. Sabaah Folayan's feature debut doesn't offer many new insights into the cultural, sociological and racial dynamics that informed the tragedy and the subsequent public outcry, preferring instead to chronicle the rise of a protest movement and expose the ingrained distrust African-American communities feel towards law enforcement. As such, this you-are-there documentary bears witness — not with elegance but, rather, deep sorrow and resilience.
Viewers appreciate the atmosphere of besieged anguish that Ferguson's marginalised African-American population consistently experiences.
Premiering in Sundance's US Documentary Competition, Whose Streets? couldn't be timelier in the wake of Black Lives Matter, which was sparked by the senseless murder of African-Americans such as Brown. Especially in the States, the Brown shooting remains a powerful, disturbing symbol of the country's racial tensions, and so there should be considerable interest in this film — not just from viewers but also cable news and other journalistic outfits.
Whose Streets? begins after policemen have shot and killed Brown in the city of Ferguson on August 9, 2014. Folayan mixes news archives, video captured by residents, and Folayan's own footage to give us a moment-by-moment response to the shooting. The director focuses her attention on Ferguson's sizable black population, interviewing a few prominent protestors and taking us inside their home lives when she's not documenting the community's public clashes with police and city officials.
Soon, the tensions escalate — some residents express their anger by looting stores, while the state of Missouri brings in the National Guard to squash the nightly protests. And as Whose Streets? rolls along, there's an undeniable sense that we're watching a terrible situation get progressively worse with each turn.
By training her cameras on the developments in Ferguson, Folayan sacrifices a broader perspective that could have lent greater nuance and historical background to the racial and economic factors that led to Brown's killing and triggered the volcanic community response. But as its urgent title suggests, Whose Streets? opts for blunt immediacy, and the trade-off is the palpable feeling of being trapped in (as some of her on-camera subjects describe it) a war zone.
To that end, the documentary shows the fevered, sometimes dangerous stand-offs between protestors and heavily-armed cops — but Folayan and editor Christopher McNabb also shape their story so that viewers appreciate the atmosphere of besieged anguish that Ferguson's marginalised African-American population consistently experiences. The film may be short on analysis, but it's clear that systematic government failures at the local and state level have created a toxic climate, and Whose Streets? displays the seething emotions that resulted.
Despite its largely despairing tone, though, Whose Streets? does offer some brief flashes of joy and beauty to highlight the underlying hopefulness that powers the protestors' impassioned calls to action. One vocal critic of police brutality gets engaged to her girlfriend, while neighbourhood demonstrations occasionally become exultant celebrations of community. (And, in one bracingly human moment, a black cop gets teary-eyed as she tries to remain stone-faced while holding back protestors who appeal to her based on their shared racial heritage.)
Understandably, righteous fury dominates the movie, but Folayan wants audiences to remember that, amidst the anger and sadness, a crucial optimism for a better future thrives. That's not Folayan trying to tack on some sort of happy ending: It's an acknowledgment that hope gives the disenfranchised a reason to keep going when seemingly immovable racist institutions stand in their way.
Co-director: Damon Davis
Production companies: Whose Streets? LLC, Borderline Media
International sales: Submarine Entertainment, josh@submarine.com, ben@submarine.com, matt@submarine.com
Producers: Jennifer MacArthur, Sabaah Folayan, Damon Davis, Flannery Miller
Cinematography: Lucas Alvarado-Farrar
Editor: Christopher McNabb
Music: Samora Abayomi Pinderhughes
Website: www.whosestreets.com