Dir: Craig Johnson. US. 2016. 94mins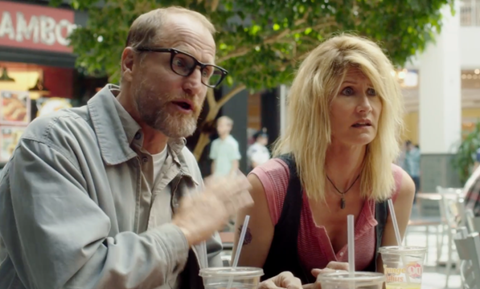 In the prickly character comedy Wilson, oddness dominates — but without much wit or insight to go along with it. Woody Harrelson plays the titular curmudgeon, based on Daniel Clowes' graphic novel, with a loose-limbed confidence, and there is some pleasure in watching this veteran actor work his rascally charm. But director Craig Johnson, who showed such a keen eye for misery and pathos in 2014's The Skeleton Twins, fails to pull off the same trick in this tale of a middle-aged grump stumbling towards contentment.
A glib superficiality hangs heavy over the narrative
After its Sundance premiere, this Fox Searchlight release is due to hit US theatres on March 24. Clowes' novels have previously been the inspiration for Ghost World and Art School Confidential, so his fans (paired with those of Harrelson) could help bring in modest commercial returns.
Wilson (Harrelson) lives alone, espousing a grouchy philosophy that modern life is rubbish and that people have lost the ability to connect with one another. Reuniting with his ex-wife Pippi (Laura Dern), a recovering addict who left him 17 years ago, he learns that she became pregnant with his child back then, giving the baby up for adoption. Shocked and elated at the prospect of being a father, Wilson becomes obsessed with finding and getting to know Claire (Isabella Amara), who's a moody teen outcast.
Working from a script by Clowes, Johnson would seem to be an ideal director for this melancholy material. The Skeleton Twins wrung comedy and drama from the plight of two unhappy, troubled adult siblings, and Wilson is similarly populated with characters whose lives haven't worked out. Unfortunately, a glib superficiality hangs heavy over the narrative. Rather than really explore these lost and angry souls who feel destined to be despondent, Wilson settles for simplistic quirkiness, which makes the characters merely bland misanthropic types instead of fleshed-out individuals.
Harrelson has a twinkle in his eye as Wilson: he may be a malcontent, but he also loves screwing with random strangers, forcing them to confront his weird behaviour. (For example, he doesn't respect personal-space boundaries in public, relishing people's discomfort that he's sitting or standing too closely to them.) But although Wilson is wrestling with feelings of worthlessness, Wilson doesn't develop the idea into something tangible — he's an idea for a funny, heartbreaking character without ever fully achieving it.
Just as Wilson fails to emerge as a nuanced personality, so too are the film's supporting characters left stranded. Dern embodies Pippi's stressed-out, desperate edginess, gracefully playing a woman who has made one bad decision after another. But she's only on the movie's periphery, and so the actress's deeply-felt portrayal can't really shine. As for Amara, she nails the teenager's angst and insecurity, and when Claire undergoes a reinvention, the transformation is believable and surprising. Too bad Wilson is so infatuated with its underdeveloped main character that it doesn't have enough patience to allow a true ensemble piece to flourish.
To give Wilson some credit, cinematographer Frederick Elmes and composer Jon Brion drape the scenes in a glowing, bittersweet atmosphere, suggesting that life might be beautiful if glum Wilson would just realise it. And as the film nears its finale, the character experiences some peculiar ups and downs — including a prison sentence and an unlikely romance with his dog sitter (Judy Greer) — that point to a promising future. In these latter stretches, Wilson eases up on the wan misanthropic comedy, and we get a glimpse of the warmer, more wistful story that could have been. Before then, though, the movie is too much oddity and not enough heart.
Production company: Next Wednesday
US distribution: Fox Searchlight, www.foxsearchlight.com
Producers: Mary Jane Skalski, Jared Ian Goldman
Screenplay: Daniel Clowes, based upon the graphic novel Wilson written by Daniel Clowes
Cinematography: Frederick Elmes
Production design: Ethan Tobman
Editor: Paul Zucker
Music: Jon Brion
Website: www.foxsearchlight.com/wilson
Main Cast: Woody Harrelson, Laura Dern, Judy Greer, Isabella Amara, Cheryl Hines, Margo Martindale, David Warshofsky, Mary Lynn Rajskub