Dir/scr: Taylor Sheridan. US, 2017, 111 mins.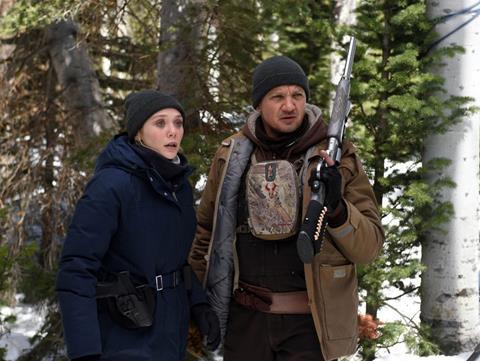 Taylor Sheridan directs for the first time in Wind River, a film which immediately identifiable as the work of the man who wrote both Sicario (2015) and Hell Or High Water (2016). Combustible, masculine and tense, it demonstrates both that Sheridan can direct with ease and how eminently filmable his written work is. The story of a game tracker in Wyoming (Jeremy Renner) who becomes entangled in a murder on a Native American reservation (the titular Wind River), it shares some themes, and character types, with Sheridan's earlier work; its rugged, snowy landscapes where one man faces into the frontier occupy every inch of the screen.
Music, from Nick Cave and Warren Ellis, seems to underline the isolation and alienation of the reservation, to speak of the sadness of a people set apart.
With Renner and Elizabeth Olsen – as an inexperienced FBI investigator in over her head, much like Emily Blunt in Sicario – headlining, Wind River should have no problems attrracting followers of Taylor Sheridan's work – Hell Or High Water was one of the best-performing independent films of 2016. Those who had problems with Sicario may find themselves knocking up against the same issues here, but this is a solid thriller that feels at once like a studio release and an independent awards contender. After a Sundance premiere, it screens at Cannes in Un Certain Regard.
Sheridan sets a chilly tone for his Utah-shot film with a moonlight opening sequence in which a barefoot woman runs desperately for her life through the snow. We then encounter Renner's Cory Lambert, a tracker who hunts down predators for the local wildlife department; soon, he will discover her frozen body, immediately identifying the corpse as 18 year-old girl from the reservation called Natalie (Kelsey Abile). Renner is strong throughout as a closed-off, instinctive man with a past: he is separated from his Native American wife, with whom he maintains an uneasy relationship, and the proud father of a young boy.
Lambert's links with the local community and its independent police force are both lifelong and strong. When newbie FBI investigator Jane Banner (Elizabeth Olsen) is dispatched from Las Vegas to take over the investigation, she quickly realises she's out of her depth in more ways than one – those court shoes aren't going to handle the sub-zero temperatures on snow-mobile rides which give the film a jolt of pure adrenaline. But she's smart enough to call on Cory for help. While he's honest with her, he also has his own agenda. Giving Natalie's father (Graham Greene) a fairly lengthy sermon in grief counselling is perhaps excessively expositional, but it does let the viewer know that Cory is wracked with guilt over the loss of his daughter, who was Natalie's friend.
As a director, Sheridan opens his camera wide to the freezing vistas of wild Wyoming; he draws a strong, ballast-like performance from Renner as a man who struggles internally but is finely attuned to his external surroundings. Life on the reservation is depicted as bleak, and hopeless. This is a film concerned with man's quest to protect his family and dominate his surroundings; Olsen's Banner may be smart, but she's another female figure who needs to be watched over – Sheridan's films, to date, haven't exactly been feminist-friendly.
However, they're also couched in the fluent language of big-screen drama. Wind River can be thrilling and it owns the ability to surprise and shock throughout, especially when it comes to scenes shot in and around trailers. When Wind River approaches its final denouement, delivered in flashback, it bares its teeth to become extremely violent; the body count suddenly rises amongst people we've barely met, making an extended interlude set on a mountain top seem a little excessive.
Music, from Nick Cave and Warren Ellis, seems to underline the isolation and alienation of the reservation, to speak of the sadness of a people set apart. Beating in tune with the blowy, wide-screen photography, Wind River has a heart. It may be a very male heart, and it may be beat a little too loosely to succeed completely as a drama, but it enriches this film and makes Taylor Sheridan's directorial debut more than just another action thriller.
Production companies: Thunder Road, Acacia Entertainment, Film 44
International sales: Voltage
Producers: Peter Berg, Matthew George, Basil Inanyk, Wayne Rogers,
Executive producers: Erica Lee, Jonathan Deckter, Nicholas Chartier, Braden Aftergood, Christopher H Warner, Wayne Godfrey and Robert Jones
Cinematography: Ben Richardson
Production design: Neil Spisak
Editor: Gary D. Roach
Music: Nick Cave, Warren Ellis
Main cast: Elizabeth Olsen, Jeremy Renner, Graham Greene, Julia Jones, Teo Briones, Gil Birmingham, Jon Bernthal, Martin Sensmeir, Kelsey Absille,