An experienced mountain rescue team is tasked with recovering crucial documents from Everest's notorious death zone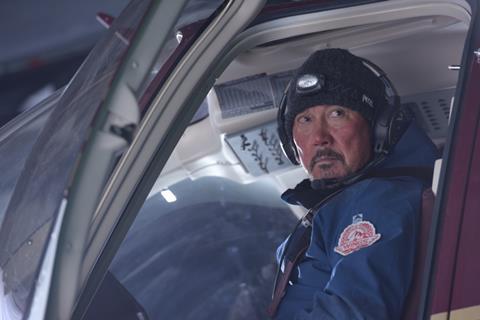 Dir/scr. Fay Yu. China/Japan. 2019. 110mins
Sporting a high-profile cast and executive produced by frequent John Woo collaborator Terence Chang, Wings of Everest unfurls a spectacle-driven ticking-clock thriller atop earth's tallest peak. The first feature from ex-game producer Fay Yu aims high in the action-adventure stakes, sending an experienced rescue crew on a dangerous mission to the mountain's notorious death zone, all to recover documents crucial to securing peace in the Himalayas. Subtlety isn't the boilerplate script's strong point but this China-Japan co-production still finds enough excitement in its tensely shot high-altitude antics, as well as in weighty performances by Japan's Koji Yakusho (The Third Murder, 13 Assassins) and China's Zhang Jingchu (Project Gutenberg, Mission: Impossible - Rogue Nation).
Exceeds 2015's Everest in conveying the awe and terror of the famous mountain
After bowing at the Tokyo Film Festival, Wings Over Everest will release in Japan in mid-November — where it'll have Yakusho's star power on its side, plus a theme song by veteran local rockers GLAY. In markets where its leads aren't as well known, however, the film might not have the same luck with luring in audiences. While it's sufficiently engaging, Yu's feature is also noticeably generic not only from an action genre standpoint, but also when it flirts with disaster and crime elements.
Set during tumultuous times in the Himalayas, the film stars Yakusho as grizzled veteran Jiang Yuesheng. His fearless reputation as 'demon of the mountain' precedes him, but he's haunted by an incident involving his protégé daughter. Bringing talented newcomer Xiaodaizi (Zhang) into Team Wings pushes these feelings to the fore, especially given her penchant for risk-taking; however when the rescue crew is hired for their trickiest task yet, she's just what they need. Enlisted by burly brothers Marcus (Graham Shiels) and Victor Hawk (Victor Webster) from India's Research and Analysis Department, they're asked to find classified CIA papers lost in a plane crash. With a peace summit just 72 hours away, and the missing documents capable of sparking a terrorist incident, time is of the essence.
Where Yakusho, Zhang and Taiwanese actor Lin Po-Hung (as Team Wings' slick helicopter pilot) give their parts a lived-in air — something that the script doesn't demand, but that Wings Over Everest needs — their English-speaking co-stars don't have the same luck. Canadians Webster, Shiels and Noah Dalton Danby (as the crew's resident motormouth and wannabe ladykiller) couldn't be more cartoonish, with their performances reflective of the movie's inner conflict. For much of the feature, writer/director Yu seems torn between soaring to serious action-adventure heights, happily helming a well-staged B-movie and playing up the drama against a lofty backdrop.
The film falls in the middle of all three, but it's at its best when Yu is fuelled by ambition — and when he draws upon his own experience as a mountain climber. Shot in China, Canada and Nepal, and deploying sweeping, swooping cinematography by Lai Yiu-Fai (Infernal Affairs, Tai Chi Zero), Wings Over Everest hits its visual marks. It's not in Sherpa territory, but it exceeds 2015's Everest in conveying the awe and terror of the famous mountain, particularly at 30,000 feet above sea level.
When it hones in on Jiang and Xiaodaizi's pseudo father-daughter relationship, Wings Over Everest finds an emotional target, too. Sensitive rather than clichéd — unlike the second of the film's sentimental backstories, involving Xiaodaizi's own traumatic past on the towering peak — their spiky but sweet interplay gives the movie a resonant foundation. But Yu can't resist the tendency to over-stuff his storyline and over-emphasise his narrative beats via an avalanche of double-crosses, predictable plot twists and formulaic attempts to ramp up the suspense, rather than trust his setting and stars to evoke an authentic response.
Production companies: Mirage, Massey Productions
Japanese distributor: Asmik Ace, kayo@asmik-ace.co.jp
Producer: Fay Yu
Cinematography: Lai Yiu-Fai
Editing: Jordan Dieselberg, David M. Richardson
Production design: Jacqueline Nguyen
Music: Kenji Kawai, Sveinn Runar Sigurdsson
Cast: Koji Yakusho, Zhang Jingchu, Lin Po-Hung, Graham Shiels, Victor Webster, Noah Dalton Danby