Dir. Pascale Lamche. France/Netherlands/South Africa, 2017, 98 mins.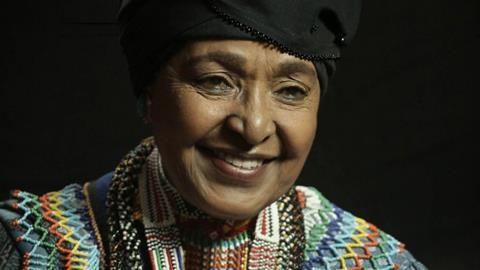 If behind many a great man stands a woman to match, then behind Nelson Mandela lurks a complicated and compelling figure indeed. Since her husband's incarceration in 1964, Winnie Madikizela-Mandela has been viewed as everything from an activist to an enemy in her native South Africa and around the globe, as Pascale Lamche's thorough documentary details. Above all else, Winnie is driven by its awareness of her role and reputation in history.
It might be apparent where the film's sympathies reside, but Winnie is by no means a simple or straightforward missive of support
Sharing a title with the Jennifer Hudson-starring 2011 biopic, the wide-ranging Winnie marks Lamche's (Black Diamond) return to the Mandela family, following her 2010 television doc Accused #1: Nelson Mandela. Bowing in the world documentary competition at Sundance hould help this second examination of the Mandelas' plight and politics receive broader attention, likely followed by select festival play and small screen viewing via streaming platforms.
"It's like it happened yesterday," Madikizela-Mandela says of her 1958 wedding in one of her many chats to camera, her eyes still fiery yet her voice weary as she recalls pivotal chapters from her life. It is far from surprising that Winnie begins its journey in the obvious place: with Winnie's marriage to Nelson, which would define much of her life, as well as her standing in the public eye. It's truly just a starting point here, however.
Given that her husband remained imprisoned for 27 years while she worked - against fierce oppostion - with the African National Congress to bring their anti-apartheid message to the world, their union proves a catalyst for the documentary, rather than its primary focus. Nelson Mandela casts a considerable and inescapable shadow on Winnie's story, though the words and actions offered by the woman considered the mother of her nation make their own impact.
That's where this densely-packed and informative documentary's resonance originates, as it presents a string of highly publicised events from a different perspective. It might be apparent where the film's sympathies reside, but Winnie is by no means a simple or straightforward missive of support. Lamache's efforts to unravel not only the tale at hand but also the reasoning behind the many conflicting views surrounding her subject — and the ripples both leave in the country today — are deftly handled.
Interwoven into accounts of Nelson's jailing and eventual release and Winnie's prosecution and persecution, his presidency and her later years after their split, is a dissection of and rumination upon women in the political realm. The role that she was expected to play, as well as the controversy that she continued to attract in forging her own path and expressing her own thoughts, make strong candidates for further examination; much like Madikizela-Mandela herself and her multi-layered quest for personal and societal freedom.
Working chronologically through influential events and important memories, Lamche may favour a standard compilation of talking heads — spanning Madikizela-Mandela and her daughter Zindzi Mandela, as well as biographers, journalists, lawyers, police and other involved parties among her family, allies and opponents alike alongside extensive archival clips - but the documentary's passion and penchant for juxtaposition shines though. And, though brimming with information, the filmmaker and editors Giles Gardner and Paul De Heer keep the pace quick and the varying sources of footage tightly deployed, while cinematographers Olivier Raffet, Felix Meyburgh and Nic Hofmeyr give a crisp sheen to the contemporary visuals.
Production company: Pumpernickel Films
International Sales: Cinephil, philippa@cinephil.com
Producer: Christoph Jörg
Executive producers: Eric Tavitian, Tim Belda, Tanaz Eshaghian
Co-producers: Femke Wolting, Bruno Felix, Steven Markovitz, Iikka Vehkalahti
Cinematographers: Olivier Raffet, Felix Meyburgh, Nic Hofmeyr
Editors: Giles Gardner, Paul De Heer