Dir. Debra Granik, US, 2009. 100 minutes.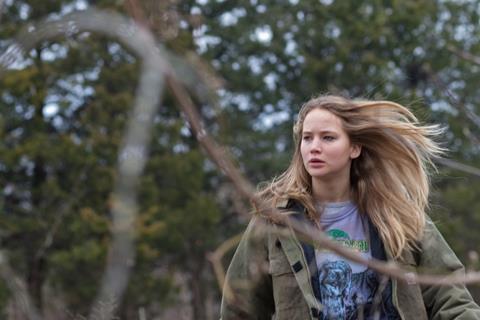 Austere and grimly realistic,Winter's Bonefollows a teenager's search through the mountains of southern Missouri for her missing father. Debra Granik's dark adaptation of Daniel Woodrell's country noir saga set in the Ozarks is chilling enough to make the viewer dread ever going there.
Granik's second feature – after 2004's Sundance directing award winner Down To The Bone - gets the hardened look and the foreboding feel of her rural setting just right. But while Woodrell has readers throughout the English-speaking world, this unrelieved march through squalor will still be challenged to move beyond the festival circuit despite winning the US dramatic feature competition at Sundance.
At the centre of Winter's Bone is Ree Dolly (Jennifer Lawrence), a sullen, intrepid 17-year-old caring for her ill mother and two siblings. Her meth-cooking father has just been released from prison, and the local sheriff (Garret Dillahunt) informs her that she'll lose the house if he skips on his bail, which seems to be exactly what he has done.
Ree sets out into a subculture of rural methamphetamine addicts, battered women and mistrustful armed families to find him. At every turn she encounters backwoods omerta and violence, even from her own relatives. If this is the heartland, its life support system is a mix of illegal drugs, alcohol, and the dole, and everyone has guns.
In Woodrell's spare novel, the bleakness is leavened somewhat by a desperate humor, mostly from women tough enough to grin in the face of despair. Yet in the script by Granik and Anne Rosellini, toughness has elbowed the hard-bitten country wit aside. Without that lightness the film suffers.
Granik directs Winter's Bone as a relentlessly bleak descent into country hell that aspires to an ethnographic precision in its grotesque details. DP Michael McDonough's cold grayish palette, shot through a Red Camera, puts an additional chill on the drama. There's no warmth to the natural world, with the trees and landscape acting as mute witnesses to deprivation and violence.
Winter's Bonefeatures painfully realistic interiors by production designer Mark White and set decorator Rebecca Brown, all looking as if they have been recorded by investigators documenting rural poverty. The camera lingers long enough so the audience doesn't miss any details.
Costumes, many obtained from locals in exchange for new clothes and coats, are reminiscent of those worn in The Road, the adaptation of Cormac McCarthy's post-apocalyptic novel.
As Ree, Jennifer Lawrence (The Burning Plain) has a deadpan determination that is largely unmodulated. She shows rare composure for a young actress in such a role, although her dour demeanor won't bring the young audience to this movie. Other cast members – especially John Hawkes as Ree's volatile and violent uncle Teardrop - feed into the prevailing myth of the Ozarks as a lost place of poverty and ignorance where people do horrible things to each other.
To sign up for Screen's weekly Reviews Newsletter with all the week's new releases, international openings and full festival reviews delivered free to your mailbox every Friday, please click HERE
Production companies
Anonymous Content
Winter's Bone Production
International Sales
Fortissimo
Producers
Anne Rosellini
Alix Madigan Yorkin
Screenplay
Debra Granik
Anne Rosellini
Based on the novel by Daniel Woodrell
Cinematography
Michael McDonough
Production design
Mark White
Costume design
Rebecca Hofherr
Editor
Affonso Goncalves
Music
Dickon Hinchcliffe
Main cast
Jennifer Lawrence
John Hawkes
Kevin Breznahan
Dale Dickey
Garret Dillahunt
Sheryl Lee
Lauren Sweetser
Tate Taylor