Anna Jadowska's 2021 'Screen Best Pitch' award-winner is a bleak, unwavering portrait of an ageing woman in a depressive state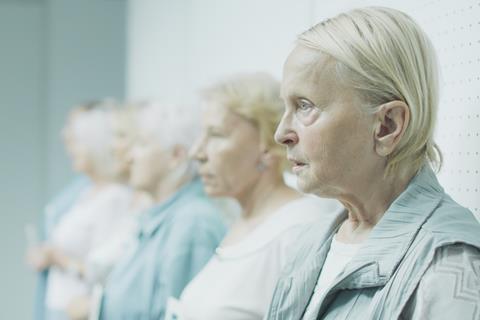 Dir/scr: Anna Jadowska. Poland/France/Sweden. 2022. 97 mins.
Sixty-year-old Mira (Dorota Pomykala) spends her time caring for others: when she is not cooking and ironing for her husband and adult son, she is working the night shift at the hospital as a midwife. Her demeanour is meek – she has difficulty asserting herself and is locked in a 'depressive state' – which is why it is so shocking to her family when she one day leaves the house to buy fish food and attempts to rob a bank, armed only with a small kitchen knife. This bleak, unhurried drama, which takes the real-life story of an elderly woman committing a bank robbery as its inspiration, tries to imagine the conditions and pressures of family and society that could drive an individual to such extreme behaviour.
Dorota Pomykala's embodiment of a depressive state is unwavering
Now screening at Tribeca, Woman On The Roof was the winner of the third annual Screen International Best Pitch Award in 2021 at New Horizons' Polish Days, and is writer-director Anna Jadowska's seventh feature film. While its central themes of isolation and depression, though deftly handled, may prove too sombre for some audiences, its real-life news story should create a talking point in its home market of Poland and on the festival circuit, where its deliberate, unhurried pace and tone will be less of an issue.
Almost immediately after Mira is introduced, she is seen climbing out of her boxy apartment and onto the roof of her housing complex. Everything in the frame is matched to a washed-out palette of white, grey, pale blue or ivory; her skin, hair and clothing blend almost seamlessly into the concrete and clouds. If not for her slow, deliberate movements across the frame and her heavy breathing dominating the sound design, it would be entirely plausible that even the audience would not notice Mira approaching the very edge of the roof, contemplating the fall. As the camera follows Mira's feet and her toes curl over the edge, cinematographer Ita Zbroniec-Zajt lets a glimpse of brighter colour bleed into the frame: the fresh green grass below. But, blurred as it is, it is too far away and even the act of jumping doesn't seem as though it could bring Mira any brightness or joy.
Following Mira as she goes about her daily chores, work and errands, it is clear that her entire world has been drained of life, just as every setting is overlit and is drained of its colour, the only splash of vibrant hues an unwanted accidental brush with a passenger holding purple flowers on a bus as she flees the scene of the crime after her attempted robbery.
With story and aesthetic so pared back, the success of the film rests largely on Dorota Pomykala's sunken shoulders as Mira, the subtle shifting of her eyes and the sullen way she responds to any form of stimulus providing the drama of the piece. Fortunately, Pomykala's embodiment of a depressive state is unwavering, and she is able to carry both the weight of the character and the wider narrative with admirable stoicism. And while the story itself is as heart-breaking as can be, what is perhaps most distressing about Jadowska's screenplay is how cruel and unforgiving its band of supporting characters are. When Mira finally does speak her truth, her head bowed under the physical weight of her shame, her husband Julek (Bogdan Koca) refuses compassion saying only, "You should get help, woman." Her son Mariusz (Adam Bobik) is no kinder, ignoring her calls and fleeing to England just when she needs him the most.
Accompanied by an unassuming score from Katharina Nuttall, everything in Mira's life is muted, including the compassion and kindness she needs from her family and wider society.
Production companies: Donten & Lacroix Films, Blick Productions, Garagefilm
International sales: Loco Films, laurent.danielou@loco-films.com
Producer: Maria Blicharska Martin-Lacroix
Cinematography: Ita Zbroniec-Zajt
Production design: Anna Pabisiak
Editing: Julia Gregory, Piotr Kmiecik
Music: Katharina Nuttall
Main cast: Dorota Pomykala, Bogdan Koca, Adam Bobik