A powerful indictment of the patriarchy in Bulgaria from the directors of 'The Cat In The Wall' and starring Maria Bakalova of 'Borat 2'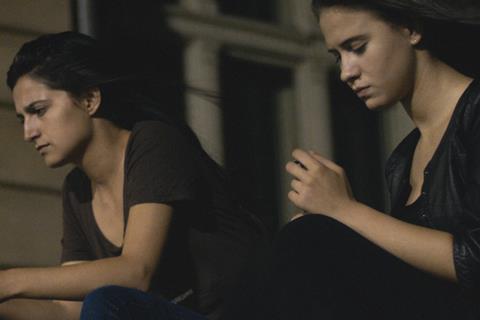 Dirs/scr: Mina Mileva, Vesela Kazakova. Bulgaria/France. 2021. 107 mins
Women Do Cry offers a blistering indictment of Bulgaria's attitude towards women. The trials and trauma of an extended family skillfully reflect a wider society enslaved by patriarchy, prejudice and a blind faith. The film's raw, pulsating anger and some bravura performances make for an explosive drama that should win hearts and minds following its world premiere in Un Certain Regard.
Blends the personal and political into a provocative, compelling drama
Mina Mileva and Vesela Kazakova's first film since 2019's Cat In The Wall, is based on true events and is very much rooted in family. Sonja (the impressive Borat 2 breakout star Maria Bakalova) and her hotheaded sister Lora (Raltisa Stoyanova) only seem to communicate by arguing. We first see them in a cramped, cluttered flat rowing over storage space for their clothes. Insults fly, hair is yanked and we witness the way their relationship jumps from devotion to exasperation in a heartbeat.
In a separate flat, their aunt Veronica (Bilyana Kazakova) finds that her life has been reduced to the all-consuming task of caring for her baby. There is no respite from the cycle of feeding, changing and comforting. Her husband is never seen but his phonecalls reveal an unyielding conviction that home is precisely where she belongs. The initial focus on Sonja and Lora widens to other family members, including their mother Ana (Katia Kazakova), lesbian aunt Yoana (co-director/writer Kazakova) and their grandfather (Iossif Surchadzhiev). Sonja's discovery that her partner has a wife, a child and a HIV+ status feels like a hand grenade thrown into the family circle. The fall-out has significant individual and collective consequences.
Women Do Cry shows an affinity with 2017's Romanian New Wave landmark 4 Months, 3 Weeks, 2 Days as it blends the personal and political into a provocative, compelling drama. The state of the nation is revealed through the lives of these women. Every fresh development helps to build a bigger picture. This is a country where men are predatory and entitled. Site manager Lora is sexually harrassed at work. In one of the most shocking scenes, a gynaecologist refuses to treat Soja when he learns of her HIV status. His rush to judgement is breathtaking as he brands her a slut and laments the influence of liberals on his country.
Background news reports help to inform the personal stories as we witness anti-gender equality protests to protect "family values", homophobic attitudes, debates swirling around the Istanbul Convention and hear a radio report stating that 91% of rapes in Bulgaria are by a partner or a relative.
Women Do Cry feels more like a defiant rallying cry than a lecture because we become so involved in the family's attempts to solve their current problems and confront the wounds of the past. Sonja's story is especially heartbreaking.
Mileva and Kazakova are able to match substance and style. There are memorable images of Sonja and Lora sitting on a pile of city rubble and discussing their problems and of an injured stork whose fate threads through the story.
Mileva and Kazakova also bring out the best in a fine ensemble cast that includes Kazakova and various members of her family. Ralitsa Stoyanova makes Lora a fierce, formidable character whose blunt honesty can feel like a hard slap. Borat 2 breakout star Maria Bakalova is exceptional as Sonja capturing the horror of a young life unravelling at the speed of a runaway train.
Production company: Activist38, Ici Et La Productions, ARTE France Cinema.
International sales: MK2, anne_laure.barbarit@mk2.com
Producers: Mina Mileva, Vesela Kazakova
Screenplay: Bilyana Kazakova, Vesela Kasakova, Mina Mileva
Cinematography: Dimitar Kostov
Editing: Donka Ivanova, Yann Dedet
Music: Andy Cowton
Main cast: Maria Bakalova, Raltisa Stoyanova, Iossif Surchadzhiev, Katia Kazakova