Kate Winslet shines in Woody Allen's latest drama, set in a 1950s Coney Island lit beautifully by Vittorio Storaro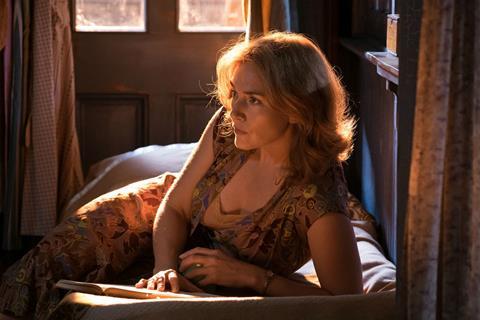 Dir/sc. Woody Allen. US, 2017. 101 mins.
Woody Allen is like a canny prospector who, between gold strikes, knows he might suffer a lean spell before he hits the motherlode again. In the four years since Allen guided Cate Blanchett to an Oscar as Blue Jasmine's delusional socialite, he has directed the unremarkable Magic in the Moonlight, Irrational Man, and Café Society. Typically, his latest, Wonder Wheel, which closed the New York Film Festival, is a classy showcase for Kate Winslet's dramatic range in a part, not dissimilar to Blanchett's, that should bring her a raft of awards nominations.
It would be going too far to say Wonder Wheel is an instant Woody Allen classic, but it's a reminder that he's still a force to be reckoned with
More self-conscious than Blue Jasmine, Wonder Wheel is set up as a melodramatic riff on an unfolding story, or one wholly invented by Justin Timberlake's on-screen narrator. His Mickey is a summer lifeguard in 1950s Coney Island who, directly addressing the audience at the start, explains he's a New York University graduate student and aspiring playwright. As an opportunistic ladies' man, he's also a pivotal participant in his tale.
It begins deceptively as a breezy working-class comedy. Winslet's migraine-plagued Ginny is a onetime actress who's fallen on hard times as the unfulfilled clam-bar waitress wife of an alcoholic carousel operator, Humpty (Jim Belushi); her love of movies likens her to Mia's downbeaten wife in Allen's The Purple Rose of Cairo.
Ginny and Humpty each have a child from a previous marriage. Ginny's is the pyromaniacal tyke Richie (Jack Gore)—the son of the jazz drummer she adored but self-destructively cheated on—whose firestarting affords Wonder Wheel comedy even as it darkens in its last third.
Humpty's daughter is Carolina (Juno Temple), who, after a five-year estrangement from her dad, comes home seeking a bolthole. Her relationship with her gangster husband went sour and she's on the run from the Mob having squealed its secrets to the FBI.
In a nod to Tennessee Williams' Sweet Bird of Youth, Ginny is having an affair with the much younger Mickey, who has trysts with her under the boardwalk and in his Greenwich Village apartment and takes her for romantic walks in Staten Island's Chinese Scholar's Garden. He makes empty promises of running away with her to Bora Bora. She tells him she loves him.
The hoodlums looking for Carolina seemingly give up. She works haplessly at the restaurant that employs Ginny and is enrolled in a night school by Humpty, who hopes she'll become an English teacher. But Ginny makes the mistake of introducing her to Mickey when they run into him on the boardwalk. Carolina and Mickey subsequently have a chance meeting in the rain and it becomes evident they fell in love at first sight.
Wonder Wheel begins to spin into tragedy when Ginny, the classic older woman eaten up by jealousy, makes a decision that's not so much selfish as monstrous. It presages Winslet's finest scene in the film — Ginny simultaneously slipping into her old actress mode and a Blanche DuBois like breakdown. More than any Tennessee Williams work, however, The Iceman Cometh is Allen's literary touchstone—specifically, the way its characters harbour pipe dreams, as does Ginny (who tells Mickey she once acted in Eugene O'Neill's play).
Made for Amazon Studios, as was Allen's TV comedy Crisis in Six Scenes, Wonder Wheel is the most beautiful film he has made in years thanks to Vittorio Storaro's exquisite lighting. Though the Coney Island beach scenes don't evince the kind of nostalgia for the '50s Allen achieved when depicting the early '40s in Radio Days, the eponymous ferris wheel is brilliantly harnessed as the symbolic wheel of human fate.
Picking up on earlier shots in which Ginny and Carolina's hair is spectacularly backlit and contrasted by the setting sun, Storaro shows the shifting blues and yellows reflected on their faces from the revolving wheel outside Ginny and Humpty's apartment as the two women talk at cross-purposes about Mickey at Ginny's 40th birthday party. Carolina, who doesn't know Ginny has been Mickey's lover, seeks her stepmother's advice about whether she has a chance with him; Ginny desperately seeks to put her off. The innocent Carolina is more often bathed in golden light than Ginny during this mesmerising sequence. Elsewhere, Storaro uses chiaroscuro to show how darkness and light issue simultaneously from the two-faced (albeit sympathetic) Ginny and the unreliable narrator Mickey.
It would be going too far to say Wonder Wheel is an instant Woody Allen classic, but it's a reminder that he's still a force to be reckoned with and a great director of actresses especially.
Production companies: Amazon Studios, Gravier Productions
International distribution: Amazon Studios
Producers: Erika Aronson, Letty Aronson, Edward Walson
Executive producers: Mark Attanasio, Ron Chez, Adam B. Stern
Cinematography: Vittorio Storaro
Production design: Santo Loquasto
Editor: Alison Lepselter
Main cast: Kate Winslet, Justin Timberlake, Jim Belushi, Juno Temple, Jack Gore, Steve Schirripa, Tony Sirico, Debi Mazar