An of-the-moment portrayal of sexual harrassment in the post-#metoo era from Israel's Michal Aviad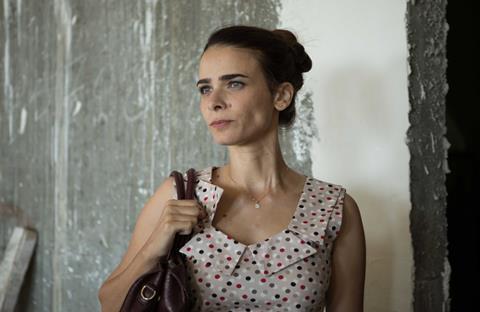 Dir. Michal Aviad. Israel. 2018. 93 mins
This tightly-focused workplace drama could hardly be more timely. Orna (Liron Ben Shlush), a smart, capable mother of three feels that she is more than up to the challenges of her new job, working for a high end real estate developer. But those challenges include fielding off the inappropriate attentions of her boss – attentions which incrementally push Orna out of her comfort zone. Issues come to a head during a business trip to Paris, and Orna decides to cut her ties with the job entirely. Her boss, however, has other ideas. Finely-drawn characters and the kind of grey-area scenario that may be uncomfortably familiar to many women make this a thought-provoking addition to the post #metoo conversation.
The hot-button topicality of the material and the high quality of the performances should ensure plenty of interest from festivals. Having premiered in Jerusalem and shown in Toronto, Working Woman will follow Busan with screenings in Warsaw and Chicago film festivals. Intimate and small in scale, the film could connect with arthouse audiences but, equally, may be well-suited to VOD platforms.
In the absence of a musical score, the brisk rhythm of Orna's clicking heels becomes a recurring motif. Seemingly unflappable and effortlessly charming, she means business and takes evident pleasure in the fact that she is very good at her new job. But from the moment her employer Benny (Menashe Noy) comments that perhaps she should wear her hair down, a sixth sense tells her that his appreciation goes beyond her professional skills. The inquisitive, largely handheld camera is tuned in to the revealing body language between the pair: the flickers of her discomfort; the mask she puts on to protect him from it.
Orna does everything right. With her husband's new restaurant business struggling, she can't afford to leave the job. She deflects Benny's personal comments, keeps the conversation firmly in professional territory. She makes it very clear that she is uncomfortable with his 'prank' – he turns off the lights in a room in which they are alone, working late. And after his one lurching attempt at a kiss, she believes she has made the boundaries between them concrete. But part of her job, as his assistant, is anticipating his needs. And Benny seems unable to distinguish where his needs cross the line from appropriate to creepy pervert territory. Noy is convincingly noxious in the role: he eyes her proprietorially, invades her personal life with out-of-hours phone calls which grab her attention away from her hard-won time with the family.
What Aviad, whose previous feature Invisible also deals with sexual attacks on women, explores effectively is the presumption of female culpability. To the audience, it is clear that Orna is the victim of a sexual assault in Paris. But she blames herself for the incident. "I made a mistake…" is how she broaches the subject to her mother. All sweating, fumbling hands and moist boozy breath, Benny lurches towards her. "You drive me wild," he pants, thus making her somehow responsible for his attack. And when her husband, his face like a clenched fist, demands, "Why didn't you tell me?", his accusatory stance both asks and answers his own question.
While some audiences might long for Orna to burn the stupid building to the ground with Benny in it, the film's subtler pay off, which weaponises Orna's considerable diplomacy skills, is equally satisfying.
Production Company: Lama films
International sales: M-appeal films@m-appeal.com
Producers: Amir Harel, Ayelet Kait
Screenplay: Sharon Azulay Eyal, Michal Vinik, Michal Aviad
Editing: Nili Feller
Cinematography: Daniel Miller
Main cast: Liron Ben Shlush, Menashe Noy, Oshri Cohen
A