Film charting the life and legacy of science fiction novelist Ursula K. Le Guin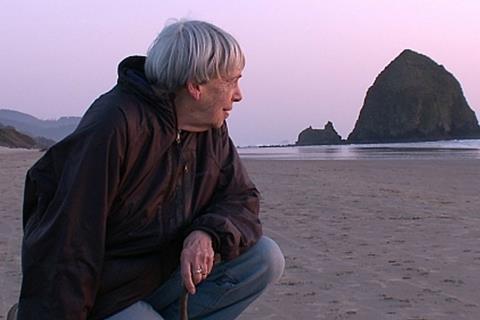 Dir Arwen Curry. US-Canada. 2018. 68mins
Novelist Ursula K. Le Guin changed the way we viewed science fiction/fantasy writing, dragging it from the shadows of pulp fiction disdain towards the realms of literary respectability. Arwen Curry's loving documentary charts her life and work and how closely the two were intertwined. Offering both insight and admiration, Worlds Of Ursula K. Le Guin is ideal for Festivals and arts channels.
A perfect primer for anyone new to Le Guin, the documentary also has enough to offer dedicated fans
Le Guin, who died earlier this year, spent her life breaking down barriers and fighting prejudice. Interviews capture a sense of her sharp intelligence and enquiring mind. "I never wanted to be a writer, " she comments. " I just wrote." She left a legacy of over 20 novels alongside collections of poetry, songs and countless stories.
Partially funded by a successful Kickstarter campaign and a grant from the National Endowment for the Humanities, Arwen Curry filmed with Le Guin during the last decade of her life as her reputation soared and her influence was acknowledged by Neil Gaiman, David Mitchell and others who had followed in her footsteps. Elements of biography are woven around an attempt to understand the inspirations for Le Guin's work and how she matured as an artist. The fact that her father was a noted anthropologist may have sparked her interest in science and alternative ways of living. Her mother's skill as a writer made her confident to enter a world that had been dominated by men.
In many ways, Curry takes a conventional approach to her subject, mixing interviews with archive footage, talking heads commentary and animated sequences depicting scenes from her best known novels including the Earthsea series, The Left Hand Of Darkness and The Dispossessed. The film has had the blessing of Le Guin's family, and there are interviews with her husband and children. What distinguishes the film is the way it explores Le Guin's ideas, and the way she used science-fiction as a vehicle to explore human existence, politics, gender equality, the search for a perfect society and the price of happiness. She was the antidote to fantasy as a gung ho adventure yarn filled with robots and ray guns, alien invaders and saviours of the universe.
Writing was a way for Le Guin to react to and process a changing society as war in Vietnam brought protests to the streets of America or the feminist movement caused her to question why even her own novels persistently revolved around male heroes. In discussion, news footage and reflection, we gain a sense of her growth as an artist and a woman. She is described as an explorer of questions rather than a provider of answers and remarks that there should "always be room to keep expanding you ideas".
A perfect primer for anyone new to Le Guin, the documentary also has enough to offer dedicated fans, confirming her place as a major figure in American literature and as a spiky, rebellious and engaging personality.
Production companies National Endowment For The Humanities, California Humanities
International sales, arwencurry@gmail.com
Producer Arwen Curry
Editing Juli Vizza, Andrew Gersh
Cinematography Andrew Black
Music William Ryan Fritch
Cast Ursula K. Le Guin, Neil Gaiman, Margaret Attwood