One family's grief in the wake of the 2015 Bataclan attack is chronicled in this sensitive, moving drama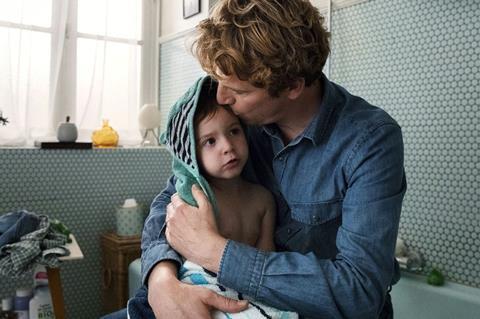 Dir: Kilian Riedhof. France/Germany. 2022. 102 mins.
A real-life horror story unfolds in Kilian Riedhof's You Will Not Have My Hate, a sensitive and cumulatively moving account of private grief in the aftermath of very public atrocity. Based on the bestselling short memoir by journalist Antoine Leiris, whose wife Helene was among 90 killed during the November 2015 terrorist attack on Paris nightclub Bataclan, the French-German co-production vividly dramatises the impact of the loss on Leiris and his toddler son Melvil (Zoe Iorio.
Puts the viewer squarely in the midst of Antoine's confusion and desperation
While necessarily a tough watch, this Piazza Grande premiere at Locarno could well score significant returns at the French box office on its release in November, some 11 days before the seventh anniversary of the Bataclan massacre. (In fact, You Will Not Have My Hate follows close on the heels of Isaki Lacuesta's Berlin competition entry One Year, One Night, which also chronicled the tragedy.) Sadly, with the Paris incident hardly an unusual case of large-scale 21st-century horror, this stylistically conventional but effective picture — whose main producers include Maren Ade (Toni Erdmann) — could click with audiences further afield in both festival and theatrical settings.
Crucial to its success is the appeal of Cesar-winning lead Pierre Deladonchamps, front and centre virtually throughout in the challenging role of Leiris. Early scenes economically sketch in the domestic detail chez Leiris in the hours leading up to the departure of Helene (Camelia Jordana) for the Bataclan concert with pal Bruno (Yannick Choirat). The couple clearly still enjoy a warm and sensual relationship, despite occasional minor frictions and the constant attention demanded by preschooler Melvil — the mama-devoted boy excellently portrayed by the tiny female performer Iorio (whose expressive work is a credit to infant-coach Nouma Bordj).
The first indication that something is amiss comes when Antoine receives solicitous text messages from friends as he awaits Helene's return late in the evening. The ensuing hours see him obtain news frustratingly piecemeal from traditional and social media ("Twitter's saying to stay home!").
Riedhof, who collaborated on the screenplay with Jan Braren, Marc Bloebaum and Stephanie Kalfon, puts the viewer squarely in the midst of Antoine's confusion and desperation, which quickly give way to numbed grief once his worst fears are confirmed. Within days he has become a figure of national and indeed international attention thanks to a widely-circulated Facebook post in which he explains his complex feelings towards the perpetrators, which formed the basis for his subsequent book.
The film sympathetically examines how this sudden celebrity impacts upon the domestic grind of life which, as the saying has it, goes on. Never an especially skilful parent, Antoine must quickly learn how to help Melvil through events the kid is just a little too young to properly comprehend. Most of You Will Not Have My Hate unfolds in the pair's apartment, which is filled with the ghostly echoes of its earthy, lively former occupant.
The scene in which Antoine learns, wordlessly, of Helene's death showcases Manuel Dacosse's widescreen, mainly handheld cinematography: he stands at one end of the flat's shadowy corridor, staring at his friends and relations at the other end, back-illuminated by stark lamplight, their expressions imparting all the information he needs.
In contrast to Riedhof and his writers, whose background is mainly in television (Riedhof's sole previous theatrical outing was 2013's bittersweet, crowd-pleasing comedy Back On Track), Dacosse has ample big-screen experience. His credits include several superb-looking films for acclaimed genre-embracing Belgian directors Fabrice du Welz and the combo Helene Cattet and Bruno Forzani — often working at the expressionistic, stylised ends of the visual spectrum.
But on You Will Not Have My Hate, Dacosse operates comfortably in a more low-key register, his palette mainly a matter of greys and muted blues. (His lighting takes on flashier, stronger hues for a late bar scene in which traumatised survivor Bruno tearfully describes Helene's final moments to a devastated Antoine.) And Peter Hinderthuer's score is productively restrained throughout, serving to delicately underline the picture's numerous passages of turbulent emotion.

Production company: Komplizen Film

International sales: Beta Cinema, beta@betacinema.com
Producers: Janine Jackowski, Jonas Dornbach, Maren Ade

Screenplay: Kilian Riedhof, Jan Braren, Marc Bloebaum, Stephanie Kalfon

Cinematography: Manuel Dacosse

Production design: Sebastian Soukup

Editing: Andrea Mertens

Music: Peter Hinderthuer

Main cast: Pierre Deladonchamps, Zoe Iorio, Camelia Jordana, Thomas Mustin, Christelle Cornil, Anne Azoulay, Farida Rahouadj, Yannick Choirat