Hong Kong Paralympian So Wa Wai's inspirational story is turned into an unabashed tearjerker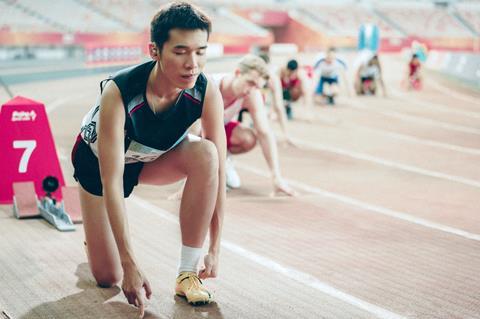 Dir: Jimmy Wan. Hong Kong. 2021. 103 mins.
Zero To Hero transforms the inspirational life of Hong Kong Paralympian So Wa Wai into an unabashed tearjerker. Director Jimmy Wan serves up a mountain range of emotional peaks; this is not a film for the cynical, but the relentless onslaught on the senses could wear down even the most resistant viewer. The shameless sentimentality still seems likely to restrict international repetition of the commercial success achieved on its home territory, however.
A heartfelt celebration of the bond between son and mother
Wan, who previously co-directed three films with Derek Tsang, clearly believes that nothing succeeds like excess. He utilises a full arsenal of overblown sports-movie ingredients, from Rocky-style training montages to races won in slow-motion glory to soft-focus photography, in order to punch home the triumph of the underdog. The story begins amidst an expectant crowd of 90,000 at the Beijing National Stadium during the 2008 Paralympic Games. So Wa Wai (Leung Chung Hang) is on the starting line for the men's 200 metres T36 final. It is his fourth consecutive Games and a last chance to add to his medal tally. He removes his hearing aid, places it on the ground and waits for the starting gun.
That is the point at which Wan cuts to Guangzhou in 1981 and a positively Dickensian prologue as anguished mother Mrs So (Sandra Ng, who also produced) races towards a hospital with a baby clutched to her chest. Haemolytic jaundice is detected, and doctors conclude that her child has cerebral palsy. Weak muscles suggest he will probably never be able to walk or feed himself. A hearing range of 10-20 percent means he will also have difficulty communicating. It is a prognosis that Mrs So refuses to accept, and so the stage is set for a mother to push her son towards a quality of life that few thought was possible. "Nobody treats you like an ordinary person," she later argues, "so become an extraordinary one."
A succession of flashbacks charts a circular route back to the opening sequence. Wan makes all the stops along the way, from the Atlanta Games of 1996 onwards, as he revisits the incredible breakthroughs and amazing coincidences of So Wa Wai's story. Reading one noticeboard, his mother just happens to come across a poster for a Sports Association For The Physically Handicapped, and So Wa Wai begins his career in athletics.
Zero To Hero is a heartfelt celebration of the bond between son and mother that seems to reach a big emotional climax every few minutes. The sense of overkill is exacerbated by a score from Day Tai that favours soaring strings and heavenly choruses courtesy of the Hong Kong Children's Choir.
The second half of the film is more calm and considered. There are modest elements of dramatic conflict as So Wa Wai's younger brother expresses resentment at being constantly overlooked. Friction develops in the mother-son bond once So Wa Wai matures and starts to question how much he is being controlled. Wan even incorporates a crusading element on the inequality between Olympians and Paralympians. And financial demands on the family contribute to the mounting pressures on So Wa Wai as he faces a Beijing Games that do not go according to plan.
Wan's broad-brushstrokes storytelling may lack finesse, but the story itself is so remarkable that it shines through. Working in close collaboration with So Wa Wai, actor Leung Chung Hang captures his facial expressions, sporting prowess and humble personality, and is matched by Mason Fung Ho-yeung who plays the teenage So Wa Wai. They convey a warm sense of the man's irrepressible charm, modesty and determination. An understated Louis Cheung makes his mark as coach Fong, whilst Ng is fiercely committed to portraying Mrs So as an unstoppable force of nature whose wholehearted investment in her son did work miracles.
Production companies: One Cool Film Production Ltd, China Film Company Limited, World Universal Culture Ltd
International sales: One Cool Film Production, info@onecool.com
Producer: Sandra Ng
Screenplay: Jimmy Wan, David Lo
Cinematography: Tan Wai Kai
Editing: Curran Pang, Alvin Wu
Production design: Li Tsz Fung
Music: Day Tai
Main cast: Leung Chung Hang, Louis Cheung, Sandra Ng