Fox's animation grosses $2.5m (£1.5m) to lead the pack in one of the year's weakest frames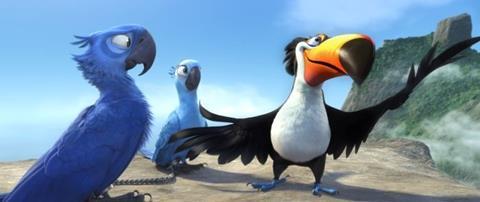 Animation-comedy Rio came in top in the UK, despite posting underwhelming results on the first weekend of the school half-term.
While Carlos Saldanha's comedy impressed on the international stage, the film's UK launch of $2.5m (£1.5m) on a week-high 522 screens for an average of $4,752 (£2,904) seems slightly disappointing, and the opening was undoubtedly hampered by the fine weather over the weekend.
The weather was a major factor in a generally weak box office, which mustered only four grosses above $817,831 (£500,000), only the second time this has happened since August last year.
Second-placed Source Code posted the week's best holdover performance, grossing $1.4m (£848,366). Optimum's thriller played in 416 locations at a screen average of $3,335 (£2,039) for a cumulative of $4.9m (£3m).
Last week's top performer HOP slipped to fifth position in its second week, making $1m (£611,367) from 499 locations, while sixth-placed The Eagle saw the biggest week-on-week drop off among the top ten, declining 62%.
UTV's romance-comedy Thank You entered in seventh, on $262,106 (£160,191) from only 54 screens for a week-high screen average of $4,854 (£2,967). Anis Bazmee's latest is the story of a private detective who falls in love with the woman who hires him to spy on her husband. Produced by UTV's Ronnie Screwvala, Thank You stars Akshay Kumar, Irfan Khan and Sonam Kapoor.
Sony's ninth-placed thriller The Roommate was the week's third-highest opening, taking a feeble $196,959 (£120,365) from 227 at an average of $867 (£530). But the week's most disastrous performance was reserved for Disney opener Mars Needs Moms, which only mustered $185,836 (£113,559) from 303 screens at a dismal average of $613 (£375) per screen.
The week's only other top 20 debut came from Paramount action-drama Tomorrow, When The War Began. The adaptation of John Marsden's popular novel couldn't get near its huge success in Australia, taking only $140,471 (£85,841) from 205 screens at a lowly average of $685 (£419).
This week sees saturation releases for Disney's Winnie The Pooh, eOne's Your Highness, Entertainment's Scream 4 and Warner's Red Riding Hood. French smash Little White Lies gets a wide distribution from Lionsgate. With generic diversity and plenty on offer for kids during half-term, expect an improvement at the box office this weekend.