Dirs/scr: Diarmuid Lavery, Michael Hewitt. UK. 2014. 102mins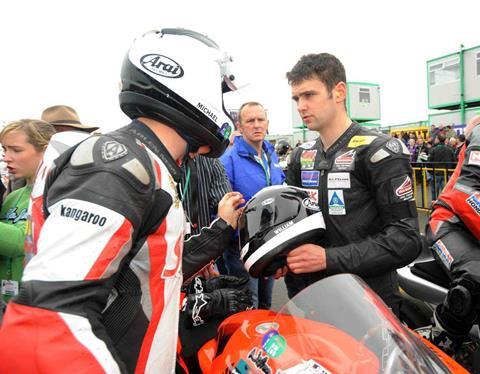 The extraordinary highs and lows that define the Dunlop motorcycle road-racing family is powerfully brought to the screen in this enthralling, exhilarating, brutal and at times moving documentary. Two generations of riders linked by glory and loss in one of the most unforgiving of motorsports.
Though a straightforward film in many ways, it is also ultimately powerful and moving.
Narrated with authority by Liam Neeson, Diarmuid Lavery and Michael Hewitt's film Road – released in the UK to time with the Isle of Man TT races, where the Dunlops were many time winners – is a fascinating glimpse into the lives of modest but obsessive men who are defined by a shared passion of road-racing as well as being born winners.
The film, packed with interviews and archival footage, tells the story of the Dunlop road-racing dynasty from Northern Ireland, multiple world champion Joey Dunlop, his brother Robert and Robert's two sons, William and Michael. Their story is one of great races and famous victories, but also shared pain and tragedy.
Robert and Joey Dunlop were quiet men from a rural village in Northern Ireland and both grew to be champions on the track, with older brother Joey especially unable to leave the need for speed and competition behind, even as he grew older. Both had crashes (Robert especially would suffer serious injuries) but it was in Estonia in a minor race in 2000 that Joey's long career came to an end when he died in a crash.
Eight years later Robert was practicing in Northern Ireland's prestigious road race the North West 200 when he died in a terrible accident. Two days later and his sons William and Michael insist on taking to the grid for the 250cc race in tribute to their father.
The film weaves interviews with friends and family of Joey and Robert (despite the fact that Michael and William are racers in the family tradition the bulk of the film is about the earlier generation) with stunning and often frightening footage of them racing. As documentaries Closer To The Edge and Senna have shown, films that bring the audience onto the track and with the rider/driver can be spellbinding and there are wonderful moments of terrifying exhilaration in Road as the motorcycles scream around the ordinary roads at breakneck speeds.
Though a straightforward film in many ways, it is also ultimately powerful and moving.
Production companies: DoubleBand Films, Generator Entertainment, Northern Ireland Screen, BBC Northern Ireland
Contact: DoubleBand Films, www.doublebandfilms.com
Producers: Diarmuid Lavery, Michael Hewitt
Executive producers: Richard Williams, Andrew Reid, Justin Binding, Mark Huffam
Cinematography: Mark Garrett
Editor: Andrew Tohill
Music: Mark Gordon, Richard Hill
With: Liam Neeson (narration), William Dunlop, Michael Dunlop