Sombe biopic of the sculptor on the centenary of his death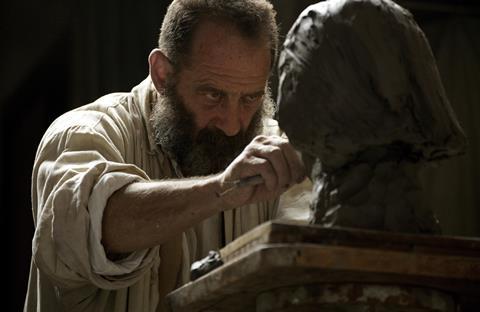 Dir/scr Jacques Doillon. France/Belgium, 2017. 119mins
French cinema's crowded gallery of artist biopics (Renoir, Cezanne Et Moi, Gauguin etc) has a serious-minded new addition in Rodin. Jacques Doillon's fastidiously executed labour of love focuses on the tangled relationship between sculptor Auguste Rodin and Camille Claudel but is more engaging when it grapples with the ideas and themes that made Rodin such a radical force in sculpture. Undoubtedly too sombre and plodding for mainstream tastes, it could still prove an arthouse attraction around the commemorations for the centenary of Rodin's death in November 2017.
The film is overly cerebral, unfolding in a series of encounters that fade to black and never build a dramatic momentum.
Doillon was initially approached to direct a documentary on Rodin but opted instead to transform his extensive research into a drama. The sense of striving for authenticity is apparent throughout a film that was supported by the Rodin Museum and filmed at Rodin's house in Meudon. Star Vincent Lindon studied sculpting and never seems to make a false move as he sketches, stretches plaster over his latest creation or moulds and shapes clay. There is a sensuality to his performance that Doillon emphasises as Rodin caresses the bark of a tree, the smoothness of marble or the tender flesh of a model.
There is never any doubting Doillon's sincerity or artistry but his film is overly cerebral, unfolding in a series of encounters that fade to black and never build a dramatic momentum.
Doillon begins in the Paris of 1880 as Rodin receives a state commission, the first sign of recognition from the art establishment. He begins the creation of the massive The Gates Of Hell. He also starts an increasingly fraught relationship with his student and assistant Camille Claudel (Izia Higelin). His domestic life lies in the safe hands of the long-suffering Rose (Severine Caneele) but Camille is a soulmate who can appreciate his art and stand next to him as an artistic equal, offering advice and guidance. The fact that he will never marry her and that she will be forever in his shadow become insurmountable bones of contention.
The production design on Rodin is impeccable. His studios and workshops feel lived in; door frames are splattered with paint and plaster, dust rises from the floorboards every time someone strides by, rooms are filled with half-finished works, plaster limbs and models in various states of undress.
Vincent Lindon's lumbering figure and gruff masculinity make him the perfect match for a man who seemed to express himself best through his work. Sensitive to criticism, he has a vulnerability that is voiced in self-deprecation. "I'm a manual worker who learned to read," he dismissively asserts. Izia Higelin captures the vivacity of the young Camille but the character gradually fades from view. Anyone interested in her side of the story must consult Camille Claudel (1988) or Camille Claudel 1915 (2013).
Doillon's interest lies in Rodin and his legacy. He leaves us with the sense of someone who felt the necessity to create and who wanted to invest sculpture with a sense of life and lightness. It is just a shame that with all his good intentions, Doillon is unable to emulate those grand designs.
Production companies: Les Films du Lendemain, Artemis Productions.
International sales: Wild Bunch fbeauville@wildbunch.eu
Producer: Kristina Larsen
Cinematography: Christophe Beaucarne
Production design: Katia Wyzszkop
Editor:Frederic Fichefet
Music: Philippe Sarde
Main cast: Vincent Lindon, Izia Higelin, Severine Caneele