Dir: Richard Misek. UK. 2013. 72mins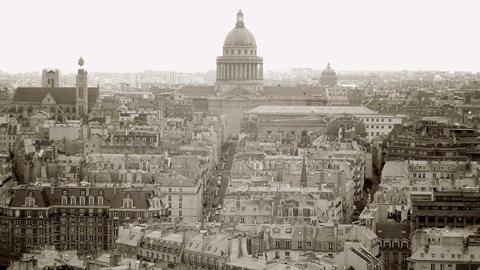 A thoughtful, insightful and gently engaging ambulation through Paris as seen through the eyes of French director Eric Rohmer, Richard Misek's smartly constructed film is an amiable pleasure, and while perhaps too slight to receive a theatrical release it could well appeal to broadcasters and – more especially – cinematheque and festival programmers.
It is a fascinating journey through a changing city.
The film is no simple biography, instead Misek takes a cinephiles journey through Paris, with the film almost entirely made up of extracts from Rohmer's Paris-set films as well as a brief few scenes in the countryside and by the sea. It allows a historical and cultural snapshot of the city, all essentially viewed though Rohmer's Nouvelle Vague prism.
Rather engagingly Misek starts off his film with an accidental encounter. One spring day in 1994 Rohmer was making Rendezvous In Paris and Misek happened to stroll across a shot. He recalled an old man in a red scarf sat at the camera, bit only when he saw the film 14 years later on television did he realise his own cameo appearance and the fact that it was a Rohmer film.
He finds himself drawn to Rohmer's Paris films, and so has compiled and constructed a film that traces not just Rohmer's career, but also his attitude to filmmaking, the themes that crop up in his films and his love for tracking his characters along the pavements and boulevards of the city.
It is a fascinating journey through a changing city, with Rohmer always a consistent and thoughtful guide. But, as Misek points out about Rohmer's films: "The Latin Quarter was his creative womb and he never quite escaped it. He was haunted by the Nouvelle Vague".
Music: Tatsujiro Oto