Dir: Jaume Collet-Serra. US. 2015. 114mins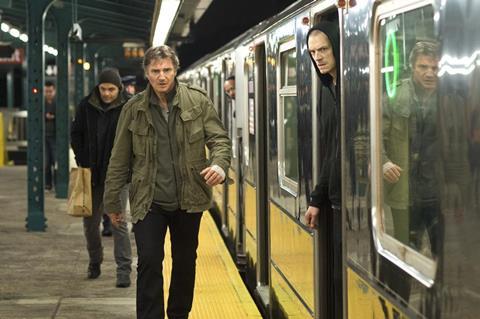 A third collaboration for Liam Neeson and director Jaume Collet-Serra, Run All Night puts an enticing cast through its paces in a story about aging New York Irish gangsters and their wayward sons. But while the dramatic themes echo the great crime movies of the seventies, it's the modern flash and muscle that ultimately win out in this pacey yet less than satisfying action thriller.
Collet-Serra follows the action with a swooping, jittery camera that amps up the car chases and brutal gun play
Opening in the US, the UK and France over the March 13 weekend, just nine weeks after Neeson's hit sequel Taken 3, the Warner-distributed Run will benefit from its star's reliable pulling power but might struggle to match the $92.2m domestic take of Neeson and Collet-Serra's February 2014 outing Non-Stop. Taken 3 has been particularly big internationally (with $199.2m so far, compared to $130.6m for Non-Stop) and that performance may affect demand for Run outside the US.
In something of a change from most of his action roles, Neeson plays Jimmy Conlon, a once-prolific hit man who now drowns his regrets in booze and relies on the good graces of his best friend and former mob boss Shawn Maguire (played by Ed Harris) to get by. When Jimmy's estranged son Mike (Joel Kinnaman, from last year's RoboCop remake) witnesses Shawn's son committing a murder, Jimmy ends up trying to stop his old friend from killing his only real family.
The desperate pursuit that follows pulls in incidental characters played by Vincent D'Onofrio (from Law and Order: Criminal Intent), a briefly-seen Nick Nolte and rapper-turned-actor Common (last seen in Selma).
Collet-Serra (who also directed Neeson in 2011's Unknown) follows the action with a swooping, jittery camera that amps up the car chases and brutal gun play. But the Spanish-born filmmaker seems less confident handling dramatic scenes that include some tired dialogue from screenwriter Brad Ingelsby (who previously wrote indie drama The Dynamiter).
German-born cinematographer Martin Ruhe (best known for Anon Corbijn's Control) gives the film a visual style that, together with the use of real Big Apple locations, enhances the New York atmosphere.
Production companies: Warner Bros Pictures, Ratpac-Dune Entertainment, Vertigo Entertainment
Worldwide distribution: Warner Bros Pictures
Producers: Roy Lee, Brooklyn Weaver, Michael Tadross.
Executive producers: John Powers Middleton, Jaume Collet-Serra
Screenplay: Brad Ingelsby
Cinemtography: Martin Ruhe
Production designer: Sharon Seymour
Editor: Dirk Westervelt
Costume designer: Catherine Marie Thomas
Music: Tom Holkenborg
Website: runallnightmovie.com
Main cast: Liam Neeson, Joel Kinnaman, Vincent D'Onofrio, Nick Nolte, Bruce McGill, Genesis Rodriguez, Ed Harris