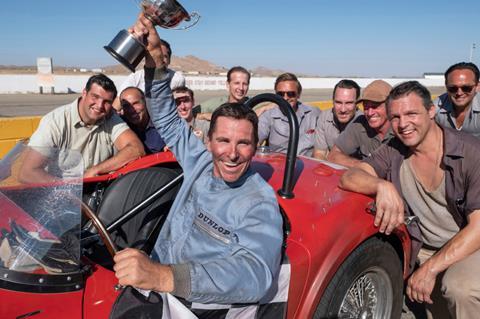 NOVEMBER 18 UPDATE: Fox and Chernin Entertainment's motor racing drama Ford v Ferrari came in a little higher than the weekend estimates as it ruled international box office on a confirmed $22.4m launch, while Warner Bros' Joker consolidated its status as the first R-rated release to cross $1bn worldwide attained on Friday (15).

Sony's Charlie's Angels earned $19.3m from its first foray in 26 international markets, and Emilia Clarke rom-com Last Christmas added $8.6m for an early $13m international tally.
WALT DISNEY STUDIOS MOTION PICTURES INTERNATIONAL
UPDATED: In its first weekend Ford v Ferrari generated $22.4m from 41 territories led by Russia on $3.4m, France on $2.6m, the UK on $2.4m, Australia on $1.8m, Italy on $1.4m, Mexico $1.1m, Germany $1m, and Spain $900,000. Combined with the unexpectedly high estimated $31m number one North American debut, the early global running total stands at an estimated $53.4m. The motor racing drama starring Matt Damon and Christian Bale opened in South Korea on December 5, Japan on January 10, 2020, and is yet to be dated in China. It is expected to hold well, given its older-skewing, unique storyline that should continue to play as a discovery for weeks to come.
Disney's Maleficent: Mistress Of Evil added $12.9m for a confirmed $354.2m internationally, and an estimated $460.2m worldwide, making it the 13th highest global release of 2019 so far and about to pass It: Chapter Two on $463m. China remains by far the top market on $48.8m, followed by Russia on $33m, and Mexico on $23.6m. The UK has delivered $17.9m.
Terminator: Dark Fate added $10.4m for $176.6m internationally, and stands at an estimated $233.5m worldwide. It held on to top spot in Japan where it has reached $12.1m after two weekends and ranks only second in the film's international market roster behind China on $49m through Tencent.
SONY PICTURES RELEASING INTERNATIONAL
UPDATED: Elizabeth Banks' Charlie's Angels earned $19.3m from its first international outing in 26 markets, opening in China in third place on a lacklustre $7.6m, and arriving at number one across the Southeast Asia ($5.4m) and Middle East ($1.6m) regions.
The action adventure starring Kristen Stewart, Naomi Scott, and Ella Balinska debuted in Indonesia on $2.9m, followed by the Philippines on $985,746. Elsewhere it debuted in Australia on $1.3m in second place, and Russia on $1.1m in second place. Charlie's Angels opens in the UK on November 29. Combined with the hugely disappointing $8.6m North American debut, the film stands at $27.9m worldwide on a report budget in the high $40m to mid $50m range.
Columbia Pictures' Zombieland: Double Tap added $3.6m from 51 markets for $40.2m, fired up by a $778,640 launch in South Korea, and a $498,256 debut in Italy that included previews. The film heads to its final market of Japan this week.
WARNER BROS PICTURES INTERNATIONAL
UPDATED: Joker crossed $1bn at the global box office on Friday and kept going at the weekend, adding an estimated $13.7m from 79 markets after a 35% overall drop to reach $696m internationally, and $1.018bn globally. It now ranks as the highest grossing Warner Bros film of all time now in 25 markets, including Russia, Brazil, and Mexico, and the highest grossing DC film of all time in 43, including France, Germany, Italy, Spain, Russia, Japan, Brazil, and Mexico.
The top earner of the weekend was Germany, which added $1.5m in its sixth weekend to rank second and reach $37.9m. France generated $1.5m at number four for $43.9m after six, and top market the UK $1.3m for third place and a $70.1m running total after seven.
In other seventh weekends, the drama starring Oscar frontrunner Joaquin Phoenix added $1.1m in Japan to reach $43m, $946,000 in Brazil for $36.5m, and $883,000 in Spain for $30.7m.
Horror sequel Doctor Sleep earned an estimated $5m in 71 markets as the international running total climbed to $28.9m, and worldwide reached $53.7m. In the second session Russia delivered the weekend's top individual result as $861,000 in fourth place elevated the tally to $3.6m, while top market the UK delivered $271,000 for $4m after three weekends. The film opens in Germany this week.
The Good Liar with Ian McKellen and Helen Mirren grossed $1.4m from 12 for an early $3.8m running total, and $9.4m worldwide. The drama debuted in Russia on $344,000 and added $784,000 in its second session in the UK where it now stands at $3.2m. It: Chapter Two stands at $255m from the international arena and $466.5m worldwide, and the lead market is the UK on $23.1m.
UNIVERSAL PICTURES INTERNATIONAL
UPDATED: Rom-com Last Christmas starring Emilia Clarke and Henry Golding used an $9m international session to push the early tally to $13.3m, and worldwide to $35.7m. Powering weekend business was a $3.4m number one debut in the UK that delivered director Paul Feig's second best opening Friday, and a $1.6m number two debut in Germany. Australia produced $1.1m for $3.2m in the second session, while Netherlands generated $415,000 for $1.3m.
The Addams Family added $6.7m for $61.4m, and climbed to $169.6m worldwide. Russia and the UK have produced $12.5m after three, and $11.5m after four, respectively. Abominable from DreamWorks Animation and Pearl Studios stands at $97.2m internationally rising to $112.4m including $15.2m from China via Pearl, and $172.1m worldwide. Downton Abbey has amassed $87.4m from international markets and $183.7m globally.
AGC INTERNATIONAL
UPDATED: Roland Emmerich's Second World War action adventure Midway added $5.3m through AGC Studios' international licensees to reach $38.2m, and $73.3m worldwide.
PARAMOUNT PICTURES INTERNATIONAL
Ang Lee's sci-fi thriller Gemini Man starring Will Smith has reached $121.8m including China, and opened in Thailand in second place on $358,000, Argentina in third on $160,000, and Ecuador in second on $131,000. Family release Playing With Fire starring John Cena added $1.3m from 11 markets for an early $4.5m running total. It has reached $2.3m in Mexico and $1.4m in the Middle East, both after two sessions. Dora And The Lost City Of Gold stands at $57.5m internationally.
STX INTERNATIONAL
Hustlers added $2.2m for $43.8m and stands at $148.5m worldwide. The drama starring Constance Wu and Jennifer Lopez added $1.2m in Italy for $3.5m, and has reached $1.5m in Spain. Horror thriller Countdown earned $1.6m for $7.3m and $31.7m worldwide. The drama opened in France at number six on $980,000.