Films from Olivier Nakache and Éric Toledano, Alexandros Avranas and Diego Lerman added to competition line-up.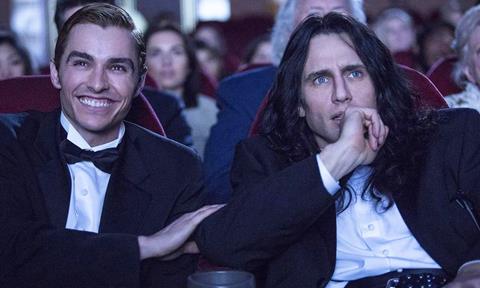 Further competition titles for the 2017 San Sebastian Film Festival (22-30 September) have been announced, including The Disaster Artist.
Written, directed and starring James Franco, the project tells the story of Tommy Wiseau's infamous cult film The Room. It will also appear at the Toronto International Film Festival.
Other titles competing for the Golden Shell include Diego Lerman's A Sort Of Family (Una Especie De Familia); Love Me Not from Alexandros Avranas; Barbara Albert's Mademoiselle Paradis; and The Lion Sleeps Tonight from Nobuhiro Suwa.
Olivier Nakache and Éric Toledano's C'est La Vie!, Ivana Mladenovic's Soldiers. Story From Ferentari and Matt Porterfield's Sollers Point have also been announced.
Alexandros Avranas won the best director Silver Lion at Venice for Miss Violence in 2013. Diego Lerman's Suddenly won the Silver Leopard at the Locarno Festival in 2002.
Nakache and Toledano's previous films includes box office phenomenon The Intouchables, which was nominated for eight César Awards, and Samba.
Barbara Albert previously competed in San Sebastian with The Dead And The Living in 2012.
Nobuhiro Suwa won the Fipresci prize at Cannes for his second film, M/Other in 1999 and the jury special prize at Locarno for A Perfect Couple in 2005.
Previously announced competition films include Submergence (Wim Wenders), El Autor (Manuel Martín-Cuenca), Handia (Jon Garaño and Aitor Arregi) and Life And Nothing More (Antonio Méndez Esparza).
The other films in the official selection will be announced in the coming weeks.
Titles added to the competition line-up:
The Lion Sleeps Tonight (Le Lion Est Mort Ce Soir), Nobuhiro Suwa
C'est La Vie! (Le Sens De La Fête), Olivier Nakache, Éric Toledano
Mademoiselle Paradis (Licht), Barbara Albert
Love Me Not, Alexandros Avranas
Soldiers. Story From Ferentari (Soldaţii. Poveste Din Ferentari), Ivana Mladenovic
Sollers Point, Matt Porterfield
The Disaster Artist, James Franco
A Sort Of Family (Una Especie De Familia), Diego Lerman