Dir: Luc Vinciguerra. France-Australia-Ireland. 2010. 80mins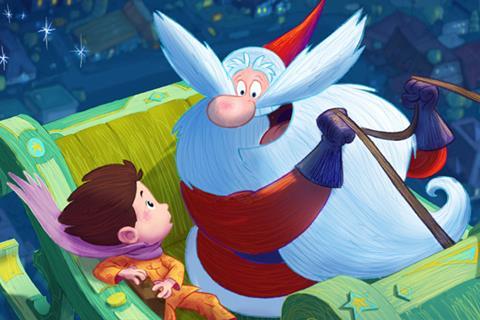 This brightly simple Christmas film is aimed at the Under-8s, a small but important audience unimpressed by CGI animation techniques, frightening villains and weird effects. The Gallic version of this comfortably old-fashioned French-Australian-Irish co-production had a successful run in France last year, ranking fourth on its opening weekend. Now the English version gets a wide release (180+ screens) in Australia on November 10. World sales are already healthy.
The colours are bright and the fun assured.
Though the animation never aims much higher than Dora the Explorer or similar daytime TV fare, there's a strong script with a clever and exciting climax (by Alexandre Révérend), and a particularly attractive, heart-felt score (by Nerida Tyson-Chew). As a Christmas holiday treat, Santa's Apprentice will answer the needs of many a hard-pressed parent.
Apparently there's a rule that every 178 years the current Santa has to hand over to a young apprentice. His name must be Nicholas, an orphan and, the trickiest condition, 'pure at heart'.
Fortunately for Santa (fruitily voiced by Shane Jacobsen), the only suitable candidate worldwide lives in a Sydney orphanage set picturesquely on the banks of the harbour with a splendid view of Bridge and Opera House. Nicholas (Jack Versace) is whisked off to the North Pole where he must play with every toy ever invented, and learn how to drive sleighs and drop down chimneys.
The colours are bright and the fun assured — though Santa's elves are a little frightening and the 76 minute running time (there are four minutes of credits) is demanding on the attention span of the very young. Who knew that Santa & Co all have Aussie accents!
Production companies: Gaumont-Alphnim (France), Avrill Stark Entertainment (Aust), Cartoon Saloon (Ireland)
Aust/NZ distribution: Becker Film Group
International sales: Gaumont SA
Producers: Clément Calvet, Avrill Stark, Christian Davin, Ross Murray, Paul Young
Animation Director: Ian Harrowell
Screenplay: Alexandre Révérend, based on ideas, characters and designs by Jan Van Russelberge
Editor: Céline Kélépikis
Production designer: Richard Despres
Music: Nerida Tyson-Chew