Dirs. Wisit Sasanatieng, Aditya Assarat, Kongdej Jaturanrasamee, Pen-Ek Ratanaruang. Thailand, 2009. 98 min.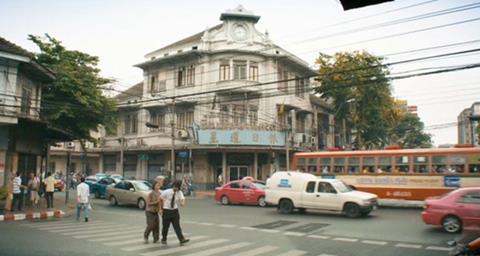 After Paris and New York, here comes a quartet of love letters to Bangkok - episodes marketed as one feature film, financed by the Thai Public Broadcasting Service, and with the intention of showcasing the country's capital internationally.
The bustling night life of the city had to be mentioned
Unlike its two genre predecessors, only the country's best known filmmakers were commissioned for the episodes, and the result rests somewhere between sweet melodrama and tentative travelogue, with a touch of humor, plenty of melancholy and despite its original intentions, a not-always attractive image of the city. Best suited for festivals, this might also surface in programs dedicated to the Thai cinema.
The first episode, directed by Wisit Sasanatieng (Tears of the Black Tiger) features a blind, dog-less, cane-less, young girl (Kongmalai) who lives under a bridge and sells lottery tickets for a living. She is almost raped before being taken on a tour of the city, which she sees through the eyes of an angel (or so she believes).
In the second, two young men spending time in Bangkok (Ananda Everingham and Louis Scott) get to learn, courtesy of director Aditya Assarat (Wonderful Town), something about the particular nature of Thai girls.
Kongdej Jaturanrasamee (Midnight, My Love) brings together a country bumpkin (Thongkamnerd) and a young prostitute (Neemayothin) for a night tour of the city, while the best known of the four directors, Pen-Ek Ratanaruang (Last Life in the Universe) looks at the late night encounter between a bar owner (Harwang) stranded in her Mini on a deserted road and a homeless bum (Chainam) who happens to be passing by.
Closest in spirit to an advertisement of the city, Sasanatieng's contribution, the most sentimental but also the best shot of the four, milks every bit of pathos out of the lovely, forlorn and helpless condition of his heroine, Tasana, before he introduces his inebriated angel.
Assarat's satirical take offering a sensory image of the city, no less than a visual one.
The golden-hearted prostitute and the innocent from out of town isn't exactly an original concept, the episode banking mainly on atmospheric night shots and the mention of the infamous Sanam Luang Park, a favorite cruising are for sex-hungry tourists.
The twist at the end of Ratanaruang's night adventure isn't really surprising, but then again, the bustling night life of the city had to be mentioned.
Production Company
Local Color Films
Producers
Saksiri Chantarangsri
Wicha Khokapun
Jetnipith Teerakulchanyut
International Sales
The Public Broadcasting Service
Screenplay
Wisit Sasanatieng (Sightseeing)
Aditya Assarat (Bangkok Blues)
Kongdej Jaturanrasamee (Pi Markham)
Pen-Ek Ratanaruang (Silence)
Cinematography
Narupol Cjokekanapitak (Sightseeing)
Umpornpol Yugala (Bangkok Blues)
Sayombhu Mukdeeprom (Pi Markham)
Chankit Chamniwikaipong (Silence)
Production design
Pallop Chomtaworn (Sightseeing)
Witaya Chaimongkol (Bangkok Blues)
Rasige Sukkarn (Pi Markham)
Niphon Subsea (Silence)
Editing
Patamanadda Yukol
Lee Chatametikool
Sound
Akaritchalerm Kalayanamitra
Main cast
Bongkot Kongmalai (Sightseeing)
Tanthai Prasertkul (Sigtseeing)
Ananda Everingham ({Bangkok Blues)
Louis Scott (Bangkok Blues)
Kalorin Neemayothin (Pi Markham)
Namo Thongkamnerd (Pi Markham)
Ploy Horwang (Silence)
Noppachai Chainam (Silence)