Martin Scorsese's Silence, based on Japanese author Shusaku Endo's novel, will wrap on May 15 after filming for 14 weeks in Taiwan.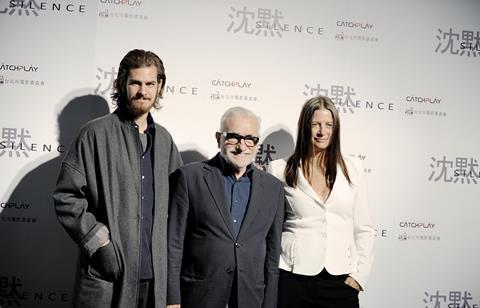 Scorsese, the film's producer Emma Koskoff and actor Andrew Garfield attended a press event in Taipei on May 4, along with Taipei Mayor Ko Wen-je and Catchplay chairman Harvey Chang.
The film received subsidy and production support from Taipei City government and Taipei Film Commission and was also partly financed by Catchplay, which is the film's distributor in Taiwan.
Scorsese said that as a Catholic he was drawn to Endo's novel, about a Jesuit missionary in 17th Century Japan, which tackles the issue of God's silence in the face of suffering. He first wrote a draft in 1992 but it has taken 15 years to bring the project to the screen.
Although the novel is set in Japan, Scorsese explained that he was introduced to shooting in Taiwan by Ang Lee, who filmed most of Life Of Pi in the country.
Silence was filmed entirely in Taiwan in locations including Taipei, Taichung and Hualien. Liam Neeson, Tadanobu Asano and Yoshi Oida also star.