Indian filmmaker Gurvinder Singh's The Fourth Direction won the top award of best film at the 26th Singapore International Film Festival's Silver Screen Awards.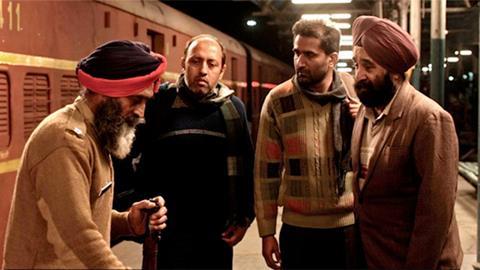 Japan's Ryusuke Hamaguchi was named best director for Happy Hour, while an ensemble Turkish cast was awarded best performance for their roles in Paruk Kacihafizoglu's Snow Pirates.
A special mention was given to Avishai Sivan's Tikkun although its public screening was cancelled as part of the festival's long-standing policy not to screen censored films.
The Israeli production, which touches on the nature of sexuality, life and death, received an "R21 to be passed with cuts" rating from Singapore's Media Development Authority. It continued to compete at the Silver Screen Awards through a closed-door jury screening.
Other awards to be presented at the Silver Screen Awards ceremony on Saturday night (Dec 5) at Singapore's Marina Bay Sands included an honorary award for Iranian director Mohsen Makhmalbaf and an inaugural cinema legend award for actress Michelle Yeoh.
Slumdog Millionaire star Dev Patel and former footballer David Beckham were spotted on the red carpet.
The 11-day festival attracted more than 12,000 admissions and scored 14 sold-out screenings, including local productions such as Eva Tang's debut documentary The Songs We Sang, Green Zeng's The Return and Eric Khoo's latest film In The Room, along with his debut Mee Pok Man in a newly restored version.
Instead of a closing film, the festival has opted for the first time to wrap with the screenings of the best feature film (The Fourth Direction) and the inaugural audience choice winner (Olivia Wyatt's Sailing A Sinking Sea) on its last day on Sunday.
Tikkun was one of three films withdrawn from the festival this year. The other two were A Copy of My Mind by Joko Anwar, which also received the same "R21 to be passed with cuts" rating, and A Sinner In Mecca by Parvez Sharma, which was given a "Not Allowed for all Ratings" classification.
"SGIFF respects the integrity of film as a work of art, and will only screen films in their entirety as envisioned by directors of the films," festival director Zhang Wenjie told Screen.
This year, the festival included a couple of films that are not allowed in their home countries, including Namewee's Banglasia, which is banned in Malaysia, and Apichatpong Weerasethakul's Cemetery Of Splendour, which is unlikely to get passed by the Thai censors. The screenings were well-attended by Malaysian and Thai audiences respectively.
In addition, Khoo's In The Room, which was screened uncut at the festival's gala presentation, failed to get a classification for a commercial release from the Singapore censors.
Silver Screen Awards
Asian Feature Film Competition
Best Film – The Fourth Direction (dir Gurvinder Singh)
Best Director – Ryusuke Hamaguchi for Happy Hour
Best Performance – Taha Tegin Ozdemir, Yakup Ozgur Kurtaal and Omer Uluc for Snow Pirates
Special Mention – Tikkun(dir Avishai Sivan)
Silver Screen Awards
Southeast Asian Short Film Competition
Best Southeast Asian Short Film – The Fox Exploits The Tiger's Might (dir Lucky Kuswandi)
Best Director – Lucky Kuswandi for The Fox Exploits The Tiger's Might
Best Singapore Short Film – My Father After Dinner (dir Gladys Ng)
Special Mention – Ferris Wheel (dir Phuttiphong Aroonpeng)
Youth Jury Prize – Three Wheels (dir Kavich Neang)
Honorary Award – Mohsen Makhmalbaf
Cinema Legend Award – Michelle Yeoh
The Most Promising Project of the Southeast Asian Film Lab –A-Joom-Ma by He Shuming (Singapore)
Audience Choice Award – Sailing A Sinking Sea (dir Olivia Wyatt)