Dir: Ava DuVernay. US. 2014. 127mins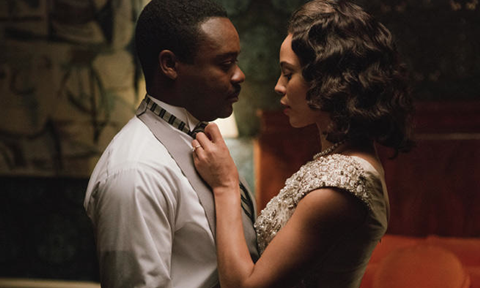 A brief but crucial episode in the sixties civil rights movement gets strikingly dramatised in Selma, a historical drama that feels topical thanks to recent events in Ferguson and other US cities. Though it may be a bit too stately to hit big at the box office, a terrific lead performance by David Oyelowo as Martin Luther King will certainly help this well crafted independent production attract attention – and probably a few prizes - during awards season.
Sequences depicting the Selma marches are fairly understated, when a more visceral approach might have given the film more emotional heft.
A limited US release by Paramount on December 25, followed by a wider launch on January 9, should allow the Pathe-financed film to capitalise on its awards-contender status. Independents that have licensed the film from Pathe for other territories may benefit less from the subject's topicality but should still get some leverage from the presence of UK-born Oyelowo. The film screened as an unfinished version at AFI.
Scripted, as his first produced project, by British writer Paul Webb (best known up to now for stage play Four Knights In Knaresborough), the film focuses on the time that King - already by then a Nobel laureate - and his team spent in Selma, Alabama, trying to ensure the local black population's right to vote. The effort culminated in a march from Selma to Montgomery and eventually led to the signing of the Voting Right Act of 1965.
Director Ava DuVernay (who previously made contemporary drama Middle Of Nowhere) gets the most engaging moments out of King's rousing public speeches and his strategy debates with aides. She doesn't shirk from showing that while King stuck to non-violence he was ready to exploit the violent tendencies of his adversaries (among them Alabama governor George Wallace, played with sly malice by Tim Roth).
Sequences depicting the Selma marches – the first of which led to violent police attacks that were seen on national TV and helped change the mood of the country – are fairly understated, when a more visceral approach might have given the film more emotional heft.
The least dramatically successful moments come from the film's brief attempts to show King's personal side. Too often in what should have been revealingly intimate scenes between King and his wife (played by the UK's Carmen Ejogo) the characters end up talking in speeches rather than dialogue.
Production companies: Pathe, Cloud Eight, Plan B, Harpo Films, Celador Films
US distribution: Paramount Pictures
International sales: Pathe International, www.patheinternational.com
Producers: Christian Colson, Brad Pitt, Dede Gardener, Jeremy Kleiner, Oprah Winfrey
Executive producers: Nik Bower, Ava DuVernay, Paul Garnes, Cameron McCracken, Diarmuid McKeown, Nan Morales, Brad Pitt
Screenplay: Paul Webb
Cinematography: Bradford Young
Editor: Spencer Averick
Main cast: David Oyelowo, Tom Wilkinson, Carmen Ejogo, Common, Tim Roth, Giovanni Ribisi, Oprah Winfrey