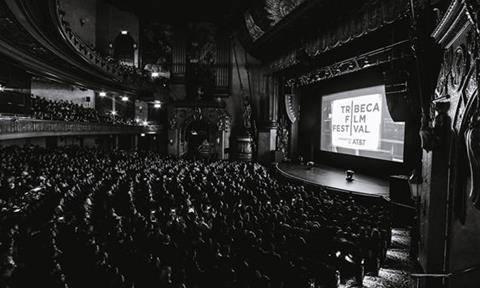 The 2018 Tribeca Film Festival kicks off on Wednesday (April 18) with the world premiere of documentary Love, Gilda and runs through April 29, in which time festival-goers will get to see a whole lot more than mere movies.
Director of programming Cara Cusumano offers a guide to some of the anticipated highlights in the 17th year of the New York festival, from the premiere of Episode 1 of Season 2 of Westworld, to a Scarface reunion, and some mind-blowing immersive content. To see the full line-up click here.
Women to the fore
This year women have directed 46% of all features in the line-up and the Tribeca leadership has reason to be cheerful. "To say it just happened that way would make it seem like it doesn't take work to move towards parity," says Cusumano. "It's definitely something that was in the back of our minds as we were programming." Cusumano stresses the festival has always championed women. "We started the Nora Award for a woman director five years ago and since the beginning we've always had a brunch event for women creators at the festival. We're a company run by women, so it made a lot of sense that we felt that was really important."
The rise and rise of the small screen
Tribeca TV returns for its third year and its bona fides as a showcase for some of the best small screen entertainment cannot be questioned. This is the festival after all that in the last two years premiered The Night Of, The Handmaid's Tale, and The Sinner. This year there is the world premiere of the first episode of Westworld Season 2, Dawn Porter's anticipated Netflix series Bobby Kennedy For President, and two more TV shows inspired by features. Cobra Kai brings back Ralph Macchio and William Zabka from The Karate Kid. In the words of Cusumano they are "middle-aged men continuing their karate feud." Natalie Dormer stars in Amazon Studios' "very spooky and strange" Picnic At Hanging Rock. What also promises to be a must-see is Rest In Power: The Trayvon Martin Story from Paramount Network. Jay-Z serves as executive producer on the show about the fatal shooting of black high school student Martin by a Hispanic neighbourhood watch coordinator.
"Audiences are as agnostic as we are," says Cusumano. "They just want to see something great and hear from the creators, and if that's a film or an episode of a show, they're really open-minded about that… People have gotten the hint this is a place to come and see something that's going to be a big deal in the coming year. Being curated by a festival enables them to stand out from the pack. At a time when people have so many choices, this is when a festival can provide that value and say, 'We've seen everything and here are 10 things we really think are really outstanding.'"
Film highlights
Sandwiching the festival are opening night selection Love, Gilda, a documentary about the late comedienne Gilda Radner by first-time filmmaker Lisa Dapolito, and Liz Garbus' closing night pick The Fourth Estate, a docu-series that follows The New York Times during the first year of the Trump presidency. "It felt so appropriate to kick off the festival with a woman director in a year when we have 46% of the programme directed by women," says Cusumano, "and a first-timer in a year when we have over 40 first-time directors in the festival."
Cusumano opines that festival-goers will be in for a treat if they catch Drake Doremus' Centrepiece Gala sci-fi romance Zoe starring Ewan McGregor and Léa Seydoux; comedy-drama The Party's Just Beginning written and directed by and starring Karen Gillan (Nebula in Guardians Of The Galaxy and Avengers: Infinity War); and Ethan Hawke, Noomi Rapace and Mark Strong in heist thriller Stockholm from Hawke's director on Born To Be Blue, Robert Budreau.
Market forces
"People come here to sell their films," says Cusumano. "Last year we reduced the size of the programme but saw more total sales." Some 50 films that screened in Tribeca 2017 eventually found homes, less than the 54 in 2016 but that year showed more films. 2017 selections that sold include My Friend Dahmer [FilmRise], Clive Davis: The Soundtrack Of Our Lives [Apple Music], and Flower [The Orchard]. While Tribeca cannot yet compete with Sundance, Toronto or Cannes as a hub of trade, it does attract business. "People are coming from LA and we have seen more interest internationally as well," says Cusumano. For the third year, the Tribeca Digital Creators Market will be up and running, offering a chance to help careers in the online community.
Anniversary reunions
As last year's 45th anniversary screening of The Godfather proved, Tribeca loves a reunion. This year it's the 35th anniversary of Scarface followed by an on-stager with Al Pacino, Michelle Pfeiffer and Brian de Palma, the 25th birthday of Schindler's List with Steven Spielberg, Liam Neeson, Ben Kingsley and Embeth Davidtz, and the world premiere of the 4K restoration of In The Soup to celebrate its 25th anniversary with Steve Buscemi and Sam Rockwell. "These have grown to become the most anticipated events and we're doing them at the Beacon Theatre, which is our largest venue uptown," says Cusumano. "We already have next year's lists ready to go. They take time."
Augmented reality comes to town
Tribeca's vast immersive programme will for the first time contain work from the realm of augmented reality (AR involves superimposing an artificial image onto a view of the actual world). "We have [a] piece in Storyscapes called Terminal Three by Assad Malik," explains senior programmer, film & immersive Loren Hammonds. "He's a young creator from Pakistan and he has made a personal narrative with AR based on his own problems travelling with his name and his religion. He addresses this and has recreated a TSA [Transportation Security Administration] interrogation where you're the TSA agent and you're interrogating Muslim travellers to decide whether or not they can enter the country." Besides that, look out for Baobab Studios' Jack, a blend of immersive theatre and VR based on children's tale Jack And The Beanstalk; Hero, a Storyscapes selection involving the rescue of a girl trapped in rubble after a bombing; and Lupita Nyong'o narrating the 360 stereoscopic documentary My Africa.
Talk the talk
Attendees for the Director series comprise Alexander Payne, Jason Reitman, Nancy Meyers and Laura Poitras. John Legend, Alec Baldwin in conversation with Spike Lee, Bradley Cooper talking to Robert DeNiro, and a Jamie Foxx and Ed Burns chat should also whet the appetite of discerning festival-goers. "It's a pretty robust line-up from a programme that has really grown and we see a lot of interest from our filmmaker guests," says Cusumano.