Funding may be scarce in the UK, but as public bodies formulate their talent development plans, Screen discovers that the appetite and ambition for short film-making is greater than ever.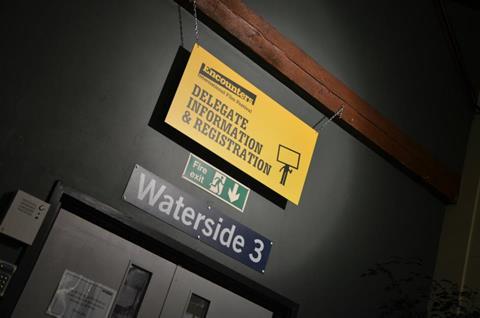 It is no coincidence that Bristol Encounters short film festival, which wrapped at the weekend, attracted a record number of delegates and international film-makers. "Festivals for short films have become more relevant again due to lack of broadcast opportunities and the fact that the DVD market for short films just doesn't exist anymore. This is one of the only times you can see films on the big screen," says Encounters managing director Liz Harkman, who revealed that Encounters' dates are to change to an earlier slot in September from 2012.
As a mark of its significance within the industry, the BFI awarded Encounters transition funding worth £50,000 for this year's edition, and while the BFI's future policies are tied up in the impending film policy review it has confirmed that it will be launching a shorts programme in the new year. Film Fund – Shorts 2012 will give filmmakers with "demonstrable experience" the chance to make shorts on budgets of between £25,000 to £50,000.
Looking further ahead, the BFI told Screen that investing in short films is "likely to be part of a holistic approach to talent development going forward."
The BFI scheme may act as a vital route into features, but it's equally important to support those film-makers who are at an earlier stage in their career, says former South West Screen executive Chris Moll, who has recently been appointed as head of talent development at newly created regional body Creative England. "My interest is how we are going to support those film-makers who are just starting to express their voice, and on how we are going to support those earlier shorts as opposed to the one just before the feature".
Peter Carlton, head of Warp Films-Europe, agrees that it is all about small steps. "It's important that people don't assume that if you make two shorts in your garden then you're ready to make a feature. There needs to be that stepping stone, whether that's mid form shorts, or series for the internet or half an hour for TV," says Carlton who also sits on the board of the Encounters Film Festival and was heavily involved in Future Encounters, a new strand at this year's festival. The scheme shines the spotlight on new talent whilst at the same time developing different forms of film-making.
"Instead of trying to find 10 directors who have made award winning shorts, we are looking for diversity of talent. Our line-up this year included people from different backgrounds including TV comedian Matthew Holness, graphic artist Joe Magee and musician Douglas Hart," says Carlton.
Next year there are plans to bring together the participants of Bristol's creative producers' summer school with the 10 film makers in the Future Encounters strand to explore ways that they might be able work together and make new work specifically for the festival. "It might be short films, or outdoor events, or interactive games. It's about broadening film-makers awareness as to how the moving image can be used and showing people from other media what incredible skills film-makers have," says Carlton.
Back in the capital, Film London runs two short films initiatives – a digital filmmaking scheme called PULSE and the London Borough Film Fund Challenge. It has also just launched a special Dickens themed short production scheme to mark the bicentenary of Dickens' birth in 2012.
Elsewhere however, the picture is less rosy, with national short film schemes including the Digital Shorts programme and Cinema Extreme (run by Film4 and the UKFC, which produced Andrea Arnold's Oscar winning short Wasp) coming to an end following the demise of the UKFC. When it comes to Creative England's policy towards shorts in the regions, Moll says he is adopting a "wait and see approach, mainly because it all depends on what comes out of the film policy review.
"But we are pushing towards a national talent strategy where we can all sit down and decide collectively what we want to do with shorts going forward," he adds.
Dan Simmons of Skillset thinks that the key is providing "the right platform to people at different stages in their career, whether that means mentoring or bespoke training. Short films remains a crucial part of the learning curve but I don't think a one-size-fits-all scheme is what's needed. And it's important that things are delivered locally."
Overfunding of shorts might not always be the answer, says the director of the London short film festival Philip Ilson. "It's about getting a balance between heavily funded work and work that is a bit more independent where people play less by the rules," says Ilson who points to France as being an example of a territory that heavily funds shorts, sometimes to the detriment of quality. "A lot of the shorts that come out of France are quite bog standard and mainstream."
Ilson has received over 800 British short film entries for the upcoming London short film festival in January. "That's quite a lot considering there isn't much funding out there," he laughs. Meanwhile, Madeleine Probst who runs Encounters' 90 second film-making competition DepicT! says she was particularly impressed with the British entries this year.
There may be less money on the table than in previous years, but the cost of making short films has also fallen dramatically, with film-makers more able than ever to pick up a camera and shoot a film. "Despite the economic crisis, it's still possible for people to make cool, interesting films using modern digital technology and demonstrate their storytelling to good effect," says Nik Powell, head of the National Film and Television School.
And short film-makers are increasingly thinking outside the box when it comes to funding their projects. British film-maker Mark Gutteridge managed to secure funding from an intercom manufacturer for his award winning short film Intercom, which he is now developing into his first feature with backing from Northern Film & Media.
Despite the internet providing an increasingly accessible platform for short films, it seems that the ultimate prize for many film-makers is still to see their work on the big screen. "Getting a million hits on Youtube is great because it gives you exposure, but nothing will beat being in the cinema with the audience and meeting everyone in the bar afterwards. I think there is room for both," says Ilson.
Gutteridge's latest short, Assessment (which came out of Film London's Borough Film Fund Challenge) is currently playing before screenings of Wuthering Heights at the Curzon Soho, whilst The Virgin Media shorts scheme (which earlier this month hosted a star studded awards ceremony at the BFI), also offers winners the chance to screen their shorts before features at Picturehouse Cinemas.
But the practice of screening shorts before features is no longer widespread, with increasingly lucrative adverts taking their place. "It seems bonkers that there is public money supporting cinemas like Watershed [in Bristol] and Cornerhouse [in Manchester], but we are not asking them to show five minute shorts ahead of the films there. They should be doing that and it's exactly right for those kind of audiences," says Moll. Certainly, when it comes to other forms of distribution, the US seems to be ahead of the game, with channels such as Shorts HD and Dish Network offering alternative platforms.
Looking ahead and Carlton believes there has been a shift in the mind set of many film-makers. "Yes, some want that moment in the cinema and that's great, provided you can get an audience in, and it can justify being on the big screen, both commercially and artistically. But more and more filmmakers understand that different types of films work well in different contexts. If anything it's the funders and distributors who are failing to keep up."