A timely, compelling thriller that confronts police brutality and racial tension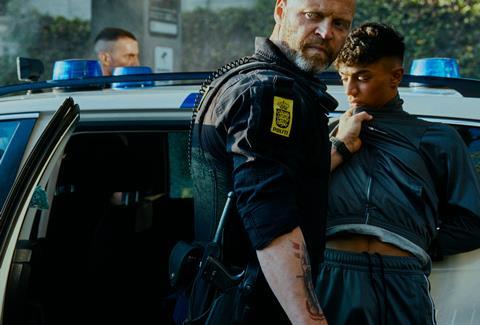 Dirs/scr: Anders Olholm, Frederik Louis Hviid. Denmark. 2020. 108 mins
Shorta couldn't be more timely. This impressive first feature from Anders Olholm and Frederik Louis Hviid confronts police brutality, racial tension and social division in a muscular, compelling thriller that proudly carries the influence of Walter Hill and John Carpenter. The mix of sweaty tension and social commentary should prove a commercial winner, especially on home territory in Denmark where it is released on October 8th.
Confirms the directorial team of Olholm and Hviid as talents to watch
Shorta is the Arabic term for police or elite force. The prejudices and failings of the police are front and centre in a film that begins with teenager Talib Ben Hassi (Jack Pedersen) held down by officers and shouting " I can't breathe". He is subsequently transferred to hospital. There is the anticipation of riots on the streets as cop Jens Hoyer (Simon Sears) is sent out on patrol with hardened veteran Mike Andersen (Jacob Hauberg Lohmann). "I'd rather blow my brains out, " remarks one colleague.
Hoyer is quietly requested to keep the volatile Andersen in check and, initially, the film feels like a tale of two cops. Andersen is the very embodiment of a bull-in-a-china-shop alpha male. His every utterance spews out casual sexism and deep-rooted racism. Lohmann makes him a swaggering bear of a man, oozing arrogance and attitude. Hoyer is a more measured, sympathetic character. Sears plays him as an anguished figure; a voice of reason in the roar of hostility that surrounds him.
Shorta is most effective at upending our perceptions of both men, finding the grey areas in the black and white certainties of their attitudes. Andersen proves to be not without compassion whilst Hoyer's moral dilemmas start to feel more like weakness than a sign of his decency.
Their mettle is tested after a needless stop and search in Copenhagen's notorious Svalegarden ghetto. Amos (Tarek Zayat) deeply resents his humiliation at the hands of a bullying Andersen. Events soon escalate, fuelled by the news that Talib has died from his injuries. Suddenly, the policemen are abandoned to their fate in a no-go zone where the violence is out of control.
The film maintains momentum as Andersen and Hoyer are chased through a concrete jungle of high-rise apartments, car parks and shops, encountering looters and gun-toting vigilantes hungry for revenge. Cinematographer Jacob Moller creates a film noir feel from the dark, enveloping shadows and threatening, dimly lit corridors of apartment blocks. Energetic handheld camerawork sweeps the viewer into the action although Olholm and Hviid ensure that some of the more extreme violence occurs off camera.
The directors balance the fights, bloodshed and narrow escapes with shards of humour and reflective moments that allow Andersen in particular to develop into a more complex, contradictory character as he finds common ground and unlikely allies during his fight for survival.
Shorta may follow a familiar template of cops caught in the crossfire of social unrest (Les Miserables instantly comes to mind). But it remains an intelligent, absorbing thriller with something to say and confirms the directorial team of Olholm and Hviid as talents to watch.
Production companies: Toolbox Film, Danish Film Institute, Scanbox Entertainment
International sales: Charades yohann@charades.eu
Producers: Morten Kaufmann Signe Leick Jensen
Editing: Anders Abjerg Kristiansen
Cinematography: Jacob Moller
Production design: Gustav Pontoppidan
Music: Martin Dirkov
Main cast: Jacob Hauberg Lohmann, SImon Sears, Tarek Zayat, Issa Khattab