Dir: Steven Soderbergh. US. 2013. 105mins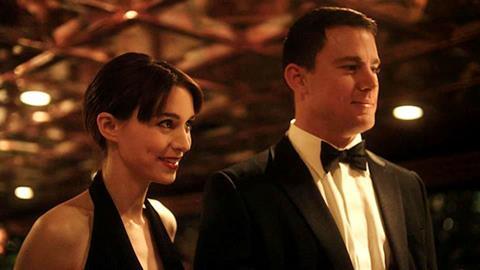 Director Steven Soderbergh's Ocean's Eleven trilogy revelled in its nifty cons and elegant double-crosses, but those films' duplicity is rather tame compared to the outlandish twists and turns of Side Effects, a movie that starts of as a psychological thriller about a deeply depressed woman but soon goes off in other directions, not always successfully. Increasingly ludicrous but also nasty fun, Side Effects is ultimately too clever for its own good, but if you can accept the film's pokerfaced absurdity on its own terms, you'll appreciate Soderbergh and his cast's cool confidence.
For a while, the movie's wild unpredictability — all filtered through Soderbergh's usual sharp, detached effortlessness — is its own reward, leaving us to wonder precisely where the story is headed.
Opening February 8 in the US, this Open Road offering will get some commercial bounce from stars Channing Tatum, Jude Law, Rooney Mara and Catherine Zeta-Jones. But without a clear saleable hook, Side Effects may prove to be only a midlevel performer, especially when the betting is that word-of-mouth will be decidedly mixed for a film that consistently subverts expectations. In other words, don't look for grosses to rival Soderbergh and Tatum's last effort, Magic Mike.
Emily (Mara) ought to be happy since her beloved husband Martin (Tatum) has just been released after a four-year prison sentence for insider trading. But his return only reactivates her long-suppressed debilitating depression, which causes her to harm herself and wind up in the hospital, attracting the concern of Jonathan Banks (Law), a sympathetic psychiatrist. He recommends that she try a new antidepressant, Ablixa, which has immediate positive results — that is, until it starts to provoke frightening side effects.
Side Effects proves to be a slyly appropriate title for a movie in which unexpected consequences keep forcing the characters to re-evaluate their situation. Soderbergh works again with writer Scott Z. Burns, whose knotty script for The Informant! should serve as fair warning for the plot surprises and character twists that await the viewer here. Consequently, it's recommended to know as little as possible going in to Side Effects, allowing Soderbergh to establish his film's upscale Manhattan setting and thoughtful, realistic characters so that he can then proceed to screw with our heads.
What can be revealed is that Mara, fresh off her Oscar-nominated turn in the US remake of The Girl With The Dragon Tattoo, is arresting as Emily, a woman whose outward show of strength during her husband's incarceration quickly evaporates once he's freed and her inner demons begin to consume her. Without resorting to melodramatic quirks, Mara externalises the emotional pain of Emily's depression, her quietly anxious face suggesting the desperation of this suicidal young woman.
But just as important to the film is Law's performance as a well-meaning doctor trying to provide a comfortable living for his new wife (Vinessa Shaw) and stepson. Once Ablixa's terrible repercussions kick in, the movie becomes Banks' story as much as it is Emily's, and Law does some of his best work in recent years. In Banks, the actor has crafted a character whose confidence in his skill as a psychiatrist slowly gets stripped away and his own world starts to fall down around him.
Because the first few reels do such a compelling job of setting up Emily's anguish and Banks' patient attempts to help her, it can be jarring to see the different paths in which Side Effects soon travels. Recalling David Mamet's puzzle films, Side Effects has a ball messing with our preconceived notions of who these characters are. (This is especially true with Zeta-Jones, who plays Emily's former therapist with such icy intelligence that one simply assumes she must be hiding something.)
For a while, the movie's wild unpredictability — all filtered through Soderbergh's usual sharp, detached effortlessness — is its own reward, leaving us to wonder precisely where the story is headed. But despite the smooth storytelling — which finds time to make glancing references to the greed of drug companies and the terrifyingly competitive class system in New York — Side Effects eventually runs aground due to a desperate attempt on the filmmakers' part to keep one-upping the narrative surprises.
As of now, Side Effects is supposedly Soderbergh's final fully theatrical release before he retires from filmmaking. (A Liberace biopic, Behind The Candelabra, will air on HBO in the States but in theatres internationally.) If that's the case, he ends on a minor but enjoyable note. Hopefully his next plot twist will be to reveal that his retirement plans were only a hoax.
Production companies: Endgame Entertainment, di Bonaventura Pictures
Domestic distribution: Open Road, www.openroadfilms.com
Producers: Lorenzo di Bonaventura, Gregory Jacobs, Scott Z. Burns
Executive producers: James D. Stern, Michael Polaire, Douglas E. Hansen
Screenplay: Scott Z. Burns
Cinematography: Peter Andrews
Production design: Howard Cummings
Music: Thomas Newman
Website: http://sideeffectsthefilm.com
Cast: Jude Law, Rooney Mara, Channing Tatum, Catherine Zeta-Jones, Vinessa Shaw, Ann Dowd