Latest Bond takes a superlative-defying $25.7m (£16.1m), through Sony, to stand at a mighty $85.2m (£53.4m) after just ten days.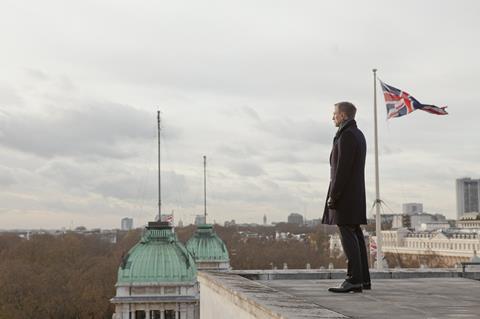 Having secured the biggest first week in UK box office history with $59.8m (£37.2m), Skyfall has continued to dominate the UK in its second weekend, becoming the fastest film ever to reach £50m.
The latest Bond outing has become the first film to record two consecutive £15m+ weekends after it only fell around 20% week-on-week for a $25.7m (£16.1m) second weekend. By comparison, the films it is behind on the all-time openings list - Harry Potter and the Deathly Hallows Part 2 and Toy Story 3 - dropped 62% and 64% respectively.
The climactic Harry Potter stood at $70.7m (£44.2m) after ten days, while Toy Story 3 had amassed $63.6m (£39.8m) by the end of its second weekend including the four days of previews. Skyfall has so far taken a stunning $85.2m (£53.4m).
Avatar, the current all-time record grosser in the UK, had a slower start with $29.7m (£18.6m) after ten days on its way to $150.2m (£94m) following eleven consecutive £2m+ weekends, so it's hard to gauge whether Skyfall can challenge its final tally but given the records it has already slain, you wouldn't want to bet against Sony's behemoth.
Showcasing admirable resolve in the face of the Bond onslaught, Paramount's Madagascar 3: Europe's Most Wanted enjoyed a slight 1% boost in its third weekend.
The 3D animation grossed $4.6m (£2.9m) for $28m (£17.5m) to date which sees it tracking ahead of both Madagascar ($26.2m/£16.4m) and Madgascar: Escape 2 Africa ($20.6m/£12.9m) at the same stage in their runs.
The week's highest new entry belonged to Lionsgate's Silent Hill: Revelation. Boosted by a $505,000 (£316,327) take on Halloween, the 3D sequel notched a $1.7m (£1.04m) debut from its 367 sites to chart third. That result is just ahead of the $1.6m (£991,687) debut of the first film on its way to $5.8m (£3.6m) overall.
Hotel Transylvania and Taken 2 both enjoyed decent holdovers as well, falling only 3% and 29% respectively. Sony's animation added $1.2m (£770,000) for $10.9m (£6.8m), while Fox's sequel now stands at $35.6m (£22.3m) following a $1.1m (£706,000) fifth weekend.
Paramount's Paranormal Activity 4 scared up a further $641,000 (£401,000) for $8.8m (£5.5m) to date, while Fun Size debuted with $647,000 (£405,000) including previews.
LFF winner Rust And Bone got off to a strong start in the UK as it charmed $403,000 (£252,099) from its 84 sites, including previews, through StudioCanal. That result is director Jacques Audiard's second best in the UK, behind A Prophet's $499,000 (£312,237) from 75 which went on to take $2.2m (£1.4m).
Also for StudioCanal, Beasts Of The Southern Wild now stands at $909,000 (£568,904) after three weeks in play.
This week sees saturation releases for Warner Bros.' highly acclaimed Argo (opens Nov 7), Sony's comedy Here Comes The Boom, Entertainment's horror-comedy Love Bite and eOne's Australian box office smash The Sapphires (opens Nov 7). Disney's People Like Us receives a wide release, while Artificial Eye's Alps, New Wave's Aurora and Verve's My Brother The Devil are among the films receiving a limited release.