Dir. Michael J. Bassett. France/Czech Republic/United Kingdom. 2009. 104 mins.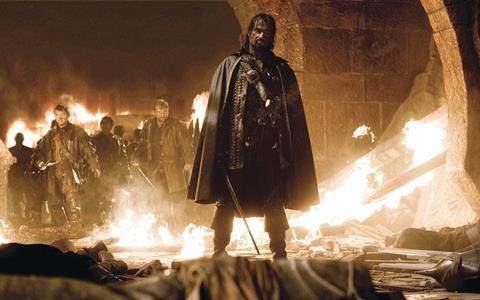 For those who prefer their action-adventure movies to be long on sword-fighting, black magic and clenched-teeth emoting, Solomon Kane will be a must-see. Created by the same pulp author as Conan The Barbarian, this 16th century warrior emerges on the big screen (played by James Purefoy) as a moody, no-nonsense individual.
Solomon Kane should appeal to moviegoers keen on sword-and-sorcery adventures, particularly Lord Of The Rings. Another potential audience is those familiar with the character from the 1920s series of short stories, although Solomon Kane's lack of visibility in the current pop-culture firmament may make this film a more likely video and ancillary proposition.
In 1500s England, feared warrior Solomon Kane (Purefoy) has renounced his bloodthirsty ways so as not to doom his soul to eternal damnation. But when an evil sorcerer named Malachi (Jason Flemyng) kidnaps the daughter (Rachel Hurd-Wood) of a family Kane has befriended, he must return to his violent ways to rescue the young woman.
As envisaged by author Robert E. Howard, Conan The Barbarian and Solomon Kane are super-masculine killing machines with an insatiable desire to conquer evil. As translated with grim efficiency to the big screen by Bassett, Solomon Kane adopts a sense of awe about Kane's tortured psyche and indomitable fighting skill, treating him as a larger-than-life figure on an epic quest for personal redemption.
This idolatry produces an unapologetically square-jawed film whose simplistic black-and-white heroism sometimes slips into cheesiness. Nonetheless, Bassett's film quite confidently delivers rousing, old-fashioned action without self-consciousness.
At first, the quaint quality of the proceedings feels like a detriment, but soon it begins to become a sort of virtue, recalling a time when adventure films didn't feel the need to include zany sidekicks or romantic subplots to keep an audience entertained.
Since he's an intentionally one-note protagonist, forever lamenting his abandonment by God while slaying those who stand in his way, Kane requires an actor who can portray rugged, uncomplicated heroism with charisma.
Purefoy doesn't quite elevate Kane into a powerful, mythic figure, but with his flowing locks and broad shoulders, he provides the character with a Christ-like radiance, which comes in handy particularly in one scene when he's actually nailed to a cross. Perhaps just as importantly, Purefoy delivers Kane's anguished dialogue with appropriate gravitas, resisting the urge to camp up the character's overblown inner turmoil.
When Solomon Kane incorporates effects shots for scenes containing demonic creatures, the results are woefully mediocre, indicating the film's lack of a significant budget. But Bassett is on firmer footing orchestrating the myriad scenes of hand-to-hand combat throughout the story.
Though not particularly gory, the film is crudely gruesome, featuring moments of impalings and slit throats that are usually photographed in gloomy forests endlessly pummelled by driving rain.
To sign up for Screen's weekly Reviews Newsletter with all the week's new releases,internationalopenings and full festival reviews delivered free to your mailbox every Friday, please clickHERE
Production companies
Davis Films
Wandering Star Pictures
Czech-Anglo Productions
International Sales
Essential Entertainment
+ (1) 310 550 9100
Producers
Samuel Hadida
Paul Berrow
Screenplay
Michael J. Bassett, based on the character created by Robert E. Howard
Cinematography
Dan Laustsen
Production designer
Ricky Eyres
Editor
Andrew MacRitchie
Music
Klaus Badelt
Main cast:
James Purefoy
Pete Postlethwaite
Rachel Hurd-Wood
Jason Flemyng
Max Von Sydow