Dir: Hanna Polak. Denmark-Poland. 2014. 110mins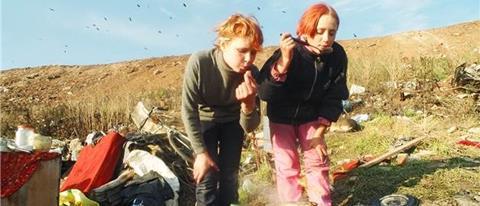 A strikingly visceral and plaintively moving documentary that is arresting right from its first powerful moments, Hanna Polak's Something Better To Come is a film likely to attract distributor and festival attention as it weaves the story of a young girl growing up in the detritus and debris of Europe's largest landfill site just 12 miles from the centre of Moscow.
This is a film that packs an emotional punch and is strikingly directed and shot by the talented Hanna Polak.
Polak, who made the acclaimed documentary The Children Of Leningradsky, about street kids around Moscow's Leningradsky station, clearly has an affinity to Russia's disenfranchised youth, and with her new film has spent a remarkable 14 year following young Yula and her family and friends as they struggle to survive in the bleakest of conditions. The film has its world premiere in competition at the IDFA documentary film festival.
Hundreds of people live on the landfill, scavenging for food, clothing and shelter. Officially they do not exist, trespassing is forbidden, as is filming. But here, sustained by alcohol and cigarettes, young and old live and die, forming ramshackle communities and with young children growing into adults.
When the film opens, Yula is a cheerful 10 year-old, with dyed blonde hair and green lycra leggings, playing with her friends. Putin has just taken over, but on the rubbish dump it is all about kids smoking, adults boozing. Cut forward a few years and the 12 year-old Yula has joined the 'adults' and like her drunken mother virtually collapses, and when asked how she will remember her childhood she replies plaintively. "…with tears…"
At 14 she is a redhead, playing football with friends at the dump (and still drinking and smoking), while at 16 she is pregnant, scared about what do and thinking of living with her drunken and physically abusive grandfather. Her mother comments: "You could have found a condom…", but in the end Yula decides to give the baby up, and returns to the landfill. At 24 there is a happy ending of sorts as the possibility of an apartment becomes very real, and pregnant again Yula sees the possibility of a proper life and some sort of peace. As the film's on-screen quote from Maxim Gorky's The Lower Depths states: "Everybody, my friend, everybody lives for something better to come."
Though Yula is at the centre of the film, around the edges there are striking images and moving moments. From one young woman who tantalisingly thinks she has found love with a garbage truck driver only for things to fall apart through to footage of skulls and dead bodies in the sludge of the landfill, and from sad film of youngsters building ramshackle homes through to grim acceptance that some will never leave the place, this is a film that packs an emotional punch and is strikingly directed and shot by the talented Hanna Polak.
Production companies: Danish Documentary Production, Hana Polak Films
International sales: Films Transit International, office@filmstransit.com
Producers: Sigrid Dyekjaer, Hanna Polak
Executive producer: Jan Rofekamp
Cinematography: Hanna Polak
Editor: Marcin Kot Bastkowski
Music: Jonas Struck