Dir/scr: Sofia Coppola. US. 2010.98mins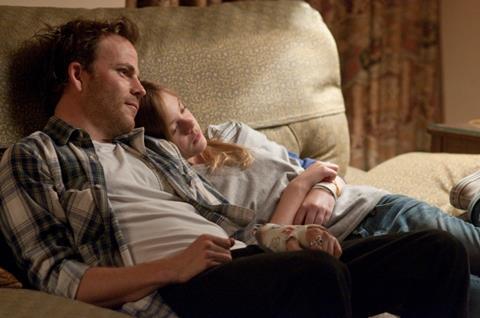 Somewhere is an entrancing return to form for Sofia Coppola, an absorbing, amusing and thoughtful delve into the empty life of a movie star who finds himself increasingly lost and confused within his rather vapid lifestyle. It has the same poetically mournful tone as Coppola's acclaimed Lost In Translation, punctuated with laugh-out loud moments as well as a lingering sense of compassion.
Fanning is wonderful as the self-confident but also rather fragile Cleo, and Dorff's performance reaches new levels when they are on-screen together.
And while Coppola may well simply be dwelling on the notion of stardom and fame and media, at the film's tender heart is the delicately staged relationship between this meandering movie star (Stephen Dorff) and his 11 year-old daughter (Elle Fanning), in which they grow and appreciate each other's company more and more.
If the films gets the same sort of critical appreciation Lost In Translation received, it could well help it reach an appreciative audience, though the film's subtly and lack of real drama (along with the lack of a marquee name to help draw attention) may make it a harder film to market. Festivals and awards-givers may well also help Somewhere's profile.
Movie star Johnny Marco (Stephen Dorff) is living in room 59 at the Chateau Marmont hotel in Los Angeles, his life a stream of girls, booze, pills and parties, while he also drifts in and out of the press work he has to do to promote his new film.
When his young daughter Cleo (Elle Fanning) from a failed marriage arrives unannounced outside his room he finds he enjoys spending time with her. Her mother has gone away for a while, and Johnny spends every moment with Cleo, even taking her to Milan with him to promote the film's Italian release to receive a film award.
Not long after they return to the US she heads off to a summer camp, and he returns to his lonely room at the Chateau Marmont, confused as to what his life is actually about.
Sofia Coppola lays out her filmic cards right with the opening scene, a shot of Johnny driving his black Ferrari round-and-round in a circles on a dusty desert track….here is man who is going nowhere (when he wants to go 'somewhere') and whose life is empty.
Back at the Chateau and the most fun he seems to have is enjoying the performances of a pair beautiful pole-dancing twins (Playboy models Kristina and Karissa Shannon), whose engagingly amateur routine in his bedroom is innocently sexy and also rather amusing.
Scenes of banal questions at a press conference and the antics of an over-eager PR girl certainly amused the gathered press hordes at the film's Venice press screening, but these are easy targets and feel rather slight when the story should be having more depth.
The scenes of Dorff and Fanning together, though, are the tender heart of the film. Fanning is wonderful as the self-confident but also rather fragile Cleo, and Dorff's performance reaches new levels when they are on-screen together. The sight of them romping around their vast Milan hotel room or simply sitting side-by-side by the pool at the Chateau Marmont are delightfully warm-hearted and gently moving.
There is a niggling sense that the whole story is rather slight and simplistic – despite the beautiful design and staging – and perhaps an easy target for Sofia Coppola, though the film's only real major mis-step is the climax, which simply confirms Johnny's self-absorption rather than seeing him move and grow after the time he has spent with his daughter. But, audiences may well disagree.
Production companies: American Zoetrope, Focus Features, Pathe Distribution, Medusa Film, Tohokushinsha
International sales: Focus Features International, www.filminfocus.com
Producers: G Mac Brown, Roman Coppola, Sofia Coppola
Executive producers: Francis Ford Coppola, Paul Rassam, Fred Roos
Cinematography: Harris Savides
Production designer: Stacey Battat
Editor: Sarah Flack
Music: Phoenix
Main cast: Stephen Dorff, Elle Fanning, Chris Pontius, Lala Sloatman