Dir/scr: Erol Mintas. Turkey. 2014. 103mins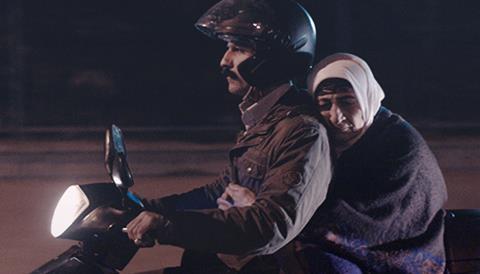 Gingerly walking through a minefield of political issues and carefully avoiding most of the pitfalls in his way, Erol Mintas' debut feature reads like a sad elegy for old people uprooted from their native soil, who cannot find either their place or any peace of mind between the four walls of a city flat.
The one presence standing out all through the film is Zubeyde Ronahi as Ali's mother, a non-professional who steals the whole show from all the rest.
To some extent reminiscent of Yesim Ustaoglou's Pandora's Box, but equipped with a paper-thin script which repeats itself time and again to fill up the 103 minutes of its running time, Mintas mentions - but does not actually explore - such prevalent themes in Turkish cinema as the destruction of old-fashioned, traditional ways, the unbridgeable transition from countryside to town life, or the more political issues of police connected with being a Kurd in a Turkish society.
The film, which premiered at the Sarajevo Film Festival, will probably appeal to politically correct people who will not mind the ponderously lyrical approach at the expense of more distinct statements and further exploration of its characters.
Ali (Feyyaz Duman), a young, presentable and upcoming Kurdish intellectual, teaches elementary school in Istanbul and shares a flat with his mother Nigar (Zubeyde Ronahi) in one of the city's faraway concrete house developments, where the old woman is deprived of the warmth, the sounds and friendly neighbors in the old Tarlabasi district, home of most of Kurdish refugees, in which they used to live before.
In the course of the film, the script goes back and forth between Ali's classes; his meetings with a publisher who has brought out his first book; encounters with his girlfriend (Nesrin Cavadzade) who tells him she is pregnant, and taking care of his mother who pines away for the songs of her youth. Shut in between the blank unfriendly walls of her new lodgings, she dreams of going back to her village in the east, stubbornly insisting, without any foundation, that everybody else has already done it.
Saying nothing conclusive about any of these issues that goes beyond mentioning them, the camera rushes behind the harassed Ali, who seems unable to perceive the true nature of his mother's plight, even when she spells it out to him, incapable of deciding whether he can assume parental responsibility; lacks the time to prepare a decent follow-up to the book he has already published and is now to be translated into French, with his only moments of respite offered apparently in front of the pupils who adore him.
The opening and final bookends take place in that mythological village the old woman constantly refers to, the first one in 1992, the last one in an unspecified future. In the first, a teacher who is obviously related, though not clear how, to Ali, is acting out for the children in his class a fable about a crow who wanted to be a peacock, but is interrupted by police brutally breaking in and taking him away. In the final sequence, it is Ali himself who re-enacts the same fable, which ends with the crow learning to its own dismay that he cannot be a peacock. These two sequences turn out to be ultimately more imaginative and eloquent than the hesitant plot that takes place in the present.
The one presence standing out all through the film is Zubeyde Ronahi as Ali's mother, a non-professional who steals the whole show from all the rest. A peasant woman whose mind and body would have been kept constantly busy taking care of her home in different surroundings, she feels useless, helpless, with no purpose in life but to wait for her busy son to come home and feed him, stuck in the alienated world in which she is forced to live and longs to escape.
Production companies: Mintas Films, Arizona Productions, Mitosfilm
Sales contact: Mintas Film, mintasfilm@gmail.com
Producers: Asli Erdem, Erol Mitas, Guillaume de Selle, Mehmet Aktas
Cinematography: George Chiper – Liilemark
Editor: Aelxandru Radu
Production designer: Ismail Durmaz
Music: Basar Under
Main cast: Feyyaz Duman, Zubeyde Ronahi, Nesrin Cavadzade