Dir: Tomm Moore. Ireland-Luxembourg-Belgium-France-Denmark. 2014. 93mins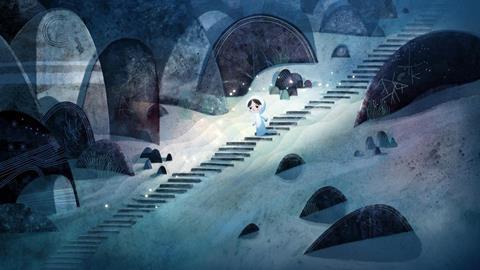 A quite delightful piece of magical animation, Song Of The Sea – the follow-up film from Tomm Moore, who made the Oscar-nominated The Secret Of The Kells – is a real pleasure. A bewitching, moving and often enchanting film, it eschews the current trend for computer-generated 3-D animation to weave an enthralling reinterpretation of Irish folktales.
The beautiful watercolour animation helps to create a stunning and often magical world.
Sophisticated enough to appeal to adults and packed with enough humour and adventure to work for youngsters, Song Of The Sea is a real animated gem, and one of the real pleasures of the Toronto Film Festival. It will likely appeal to discerning distributors and should mop up awards when it comes to animation festivals.
Its painterly style is like that of a gorgeously illustrated favourite book, and while the beautifully rendered flat animation is wonderfully idiosyncratic it also rather perfectly suits the magical folktale storyline.
Ten year-old Ben (voiced by David Rawle) lives on an island with his younger sister Saoirse, his dog Cú and his lighthouse keeper father Conor (a wonderfully mild Brendan Gleeson). His most prizes possession is large seashell that can be used to create music, given to him his mother Bronagh (Lisa Hannigan) just before she died. He is still angry that she is gone and can't really accept his little sister, despite his excitement for her arrival when his mother was pregnant.
The shell, which young Bronagh – who hasn't uttered a word - is also enchanted by, is a tangible link to his mother and a reminder of the stories she told of magical creatures and wonderful strange worlds. One night Saoirse takes the shell, unlocks her mother's old trunk and wearing a strange white coat she finds here heads into the sea to play with a group of seals. It seems she is a Selkie, a being that lives as a human an earth and a seal in the water.
But after Saoirse is found at the water's edge the next day, the children's concerned but blunt grandmother (Fionnula Flanagan) takes them off the island and to the city. But the siblings decide to try and make their way back to the island that they love so much. Their journey sees that encountering both friends and those not-so friendly as the come see that the mystical stories that their mother used to tell have a bearing on the situations they face.
The beautiful watercolour animation helps to create a stunning and often magical world, and while grumpy Ben (as he and his father struggle to deal with loss) and his romping dog may be familiar characters they are pitched into a swirling world of folk tales, magical creatures and clever metaphor. Tomm Moore's animation is a unique pleasure and is wonderfully complemented by the score from Bruno Coulais which helps define this uniquely Irish tale of magical creatures and dealing with loss. Familiar issues to many an animation film are tackled – loss, family, honour and a heroic journey – but Moore's delightful animation makes the story all the more magical, magnificent and memorable.
Production company: Melusine Productions, The Big Farm, Superprod, Nørlum, Cartoon Saloon
International sales: WestEnd Films, www.westendfilms.com
Producer: Tomm Moore, Ross Murray, Paul Young, Stephan Roelants, Serge Umé, Marc Umé, Isabelle Truc, Clément Calvet, Jérémie Fajner, Frederik Villumsen, Claus Toksvig Kjaer
Screenplay: William Collins
Editor: Darragh Byrne
Music: Bruno Coulais, Kíla
Production designer: Adrien Merigeau
Main cast: Brendan Gleeson, David Rawle, Fionnula Flanagan, Pat Shortt, Jon Kenny, Liam Hourican, Colm Ó'Snodaigh, Lucy O'Connell, Kevin Swierszcz , Lisa Hannigan