Dir: Salim Akil. US. 2012. 116mins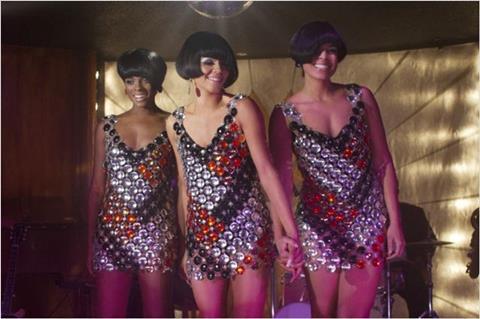 A badly generic tale of an aspiring artist who must go through the usual narrative rigmarole to reach her dreams, the musical drama Sparkle sings the same old song with a decent sense of rhythm but not nearly enough feeling. This remake of the 1976 original (which was directed by Sam O'Steen) represents the big-screen debut of American Idol winner Jordin Sparks, and like the film she's decidedly too wholesome and earnest to leave much of an impression.
In her final role, Houston neither embarrasses nor distinguishes herself, a sadly anticlimactic note on which to end her film career.
Opening August 17, this TriStar release will cater to young Sparks fans who probably weren't even alive when the first movie came out. On a sadder note, Sparkle could also attract interest because of Whitney Houston's final onscreen appearance. (The Grammy-winning singer died earlier this year at the age of 48.) Regardless, the film's lack of major stars or word of mouth will probably relegate Sparkle to dull theatrical returns.
Set in Detroit in 1968, which was the height of Motown's prominence, Sparkle focuses on the musical odyssey of three sisters: bull-headed Dolores (Tika Sumpter), charismatic beauty Sister (Carmen Ejogo), and shy, talented songwriter Sparkle (Sparks). When Stix (Derek Luke), an ambitious manager, packages them as an R&B girl group performing Sparkle's sure-fire songs, lead singer Sister becomes a major star, catching the eye of a cocky, successful comedian (Mike Epps). But the sisters' career ascension faces trouble at home from their disapproving, God-fearing mother Emma (Houston).
This remake changes the original's setting and time period but holds onto several of the songs that were written by Curtis Mayfield, including the superb R&B chestnut "Hooked on Your Love." Unfortunately, the new film — directed by Salim Akil (Jumping The Broom) — only really comes to life during the sisters' onstage musical performances. Otherwise, it's a rather familiar yarn about the dangers of fame and the importance of listening to your heart.
At first, Sparkle's Detroit setting offers the possibility of a rich social and cultural backdrop, but Akil cares more about period décor than in giving a sense of how the civil rights movement and the Vietnam War shaped this fecund musical era. But it's not the only potentially interesting material that Akil overlooks: There's little interest shown in developing the sisters' relationship or exploring how the wallflower Sparkle finds the inspiration to write her captivating songs.
For much of its running time, Sparkle is Sister's story, and Ejogo has the look and poise of a major star — so much so that she dwarfs the girlie Sparks. Granted, this is somewhat intentional — Sparkle must learn over the course of the film how to escape her sister's shadow — but as Sister predictably loses her way due to the pressures of success, Sparkle unconvincingly becomes the movie's focal point, her transition to fully confident performer never quite earned.
Because of the backstage melodrama and potentially diva-like behaviour inherent in such a tale, Sparkle could very easily have drifted into camp, and perhaps it's to the film's credit that Akil gives the proceedings a staid sincerity. The problem with such an approach, however, is that when spousal abuse, drug addiction and murder eventually rear their ugly heads, Sparkle doesn't have the necessary depth to make such dark undercurrents resonate. As a result, this may be one of the tamest, most sanitized depictions of the music industry ever put on film — which is somewhat fitting, considering that its star got her start on a glossy reality-show singing competition.
As an actress, Sparks conveys a certain amount of sweetness and shares a few good moments with Luke, who eventually becomes her love interest. But she's all surface, and her fans may be disappointed to learn that she doesn't really get to show off her full vocal skills until near the end of the film. As for Houston, she's stuck playing the scolding, humourless mother who had her own singing dreams crushed at an early age. In her final role, Houston neither embarrasses nor distinguishes herself, a sadly anticlimactic note on which to end her film career.
Production companies: Stage 6 Films, Debra Martin Chase/T.D. Jakes/Akil Productions
Domestic distribution: TriStar Pictures, www.sonypictures.com
Producers: Debra Martin Chase, T.D. Jakes, Curtis Wallace, Salim Akil, Mara Brock Akil
Executive producers: Whitney Houston, Howard Rosenman, Gaylyn Fraiche, Avram Butch Kaplan.
Screenplay: Mara Brock Akil, story by Joel Schumacher and Howard Rosenman
Cinematography: Anastas Michos
Production design: Gary Frutkoff
Editor: Terilyn A. Shropshire
Music: Salaam Remi
Website: www.sparkle-movie.com
Main cast: Jordin Sparks, Whitney Houston, Derek Luke, Mike Epps, Carmen Ejogo, Tika Sumpter, Omari Hardwick, Cee Lo Green