Dir/scr: Paul Feig. US. 2015. 115mins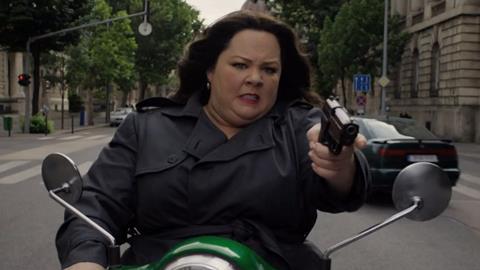 Fans of Melissa McCarthy who have cheered her big-screen ascension but lamented the one-note characters which helped fuel her rise can rejoice: With Spy, the very charming, deeply lovable, potently funny actress finally gets a role worthy of her talent. A goofy spoof of spy movies that also works rather well as a straight-up action-comedy, the latest from writer-director Paul Feig (who previously teamed with McCarthy on Bridesmaids and The Heat) may, admittedly, be a bit overstuffed with plot and set pieces. Nonetheless, this is a generous, consistently pleasurable comedy that finds its star leaving behind the oafish, obnoxious portrayals that marked her forgettable broad comedies like Identity Thief.
Spy is plenty of cheery fun, much of the joy coming from watching McCarthy in a blockbuster comedy for once not just be funny but also incredibly charismatic, vulnerable and sexy
Premiering at South By Southwest, Spy is scheduled to be released in some territories in late May before hitting the US and UK on June 5. Last year's Tammy ($100m worldwide) didn't perform as well as previous McCarthy vehicles Identity Thief ($174m) and The Heat ($230m), but Spy's clear commercial hook — combined with an ensemble that includes Brits Jason Statham, Jude Law and Miranda Hart — should help bring in audiences across the globe. Those partial to McCarthy's loud-and-crude shtick may be disappointed that she plays a much more normal person in Spy, but the betting is that favourable reviews and good word-of-mouth will propel this crowd-pleaser to strong summer business.
McCarthy plays Susan Cooper, a bright, mousy CIA desk agent who serves as dashing fellow agent Fine's (Law) eyes and ears as he executes dangerous undercover missions in the field. After Fine is murdered by Rayna (Rose Byrne), a mysterious Bulgarian beauty who has gotten her hands on a nuclear weapon, Susan volunteers to continue the mission, arguing that because Rayna has intelligence on the CIA's top agents, the government needs to send in someone with no track record.
With Bridesmaids and The Heat, Feig has directed two of the biggest comedy hits of the last several years, in the process helping to shatter a preposterous industry impression that audiences wouldn't turn out for funny female-driven movies. Writing as well as directing Spy, Feig again populates his film with hysterical women —beyond McCarthy and Byrne, there's also Allison Janney as Susan's boss and Hart as Susan's dryly amusing colleague — but two other noticeable attributes also elevate the movie significantly.
The first is that, as opposed to a straightforward sendup of a particular genre — which limited the buddy-cop comedy The Heat — Spy starts off mocking spy movies before getting down to the business of being a pretty competent version of one. Adrenaline junkies won't be blown away by Feig's passable action sequences, but because Spy transcends mere parody, it finds more places for laughs — particularly, from Susan's interactions with her fellow spies, who aren't convinced she'll survive in the field.
The other major selling point of Spy is that McCarthy has shed the boorish persona that, ironically, helped make her an A-list star. After being nominated for an Oscar in Bridesmaids, the actress has essentially duplicated that character's in-your-face outrageousness in subsequent films, to greatly diminishing comedic returns. In Spy, she plays a woman with little self-confidence pining for the dashing Fine. But once she begins trying to track down Rayna on a mission that sends her to glamorous destinations like Paris and Rome, the humour comes from Susan's fish-out-of-water insecurity — not the abrasiveness that has been the actress's big-screen M.O. Surrounded by gorgeous, statuesque women and lethal, arrogant spies, Susan stands out like a sore thumb, and McCarthy milks every ounce of the character's discomfort for laughs, making Susan incredibly sympathetic. (Also, as opposed to McCarthy's previous characters, Susan is actually quite capable, using her CIA training to good use and discovering how badass she can be.)
Feig surrounds McCarthy with a rich cast of characters who are riffs on James Bond types without being simplistic clichés. Law gives a delightfully winking performance as the debonair Fine, but the character's rapport with Susan, which remains professional but also friendly, adds just enough pathos when he's killed to justify Susan's reckless request to avenge his death.
Especially delicious is Byrne, whose Rayna comes across as the typical Bond bombshell before revealing herself to be fantastically judgmental and snotty, finding every opportunity to cut down Susan ruthlessly for her appearance. (And they have plenty of time to hang out once Susan infiltrates her inner circle, pretending to be a bodyguard hired by Rayna's father to protect her.)
As for Statham, he provides his usual rugged swagger to the role of Rick Ford, a fellow spy who loves detailing all the unbelievably death-defying things he's done as part of the job. (Most outrageous of his claims may be that he reattached one of his arms using the other arm.) In other words, Statham is mocking the typical Statham character, and the action veteran (who's always sported an underrated comedic streak) has a ball, proving to be the perfect hardboiled foil to Susan's flustered novice.
Because of its action-movie milieu, Spy has an impressive forward motion for a comedy, although one can see the places where Feig has allowed his cast to adlib jokes, which can sometimes slow the momentum. And although Spy blessedly lacks the repetitive meanness of McCarthy's post-Bridesmaids films, the star's penchant for hurling insulting barbs does pop up on occasion. (That said, since Susan is immensely more likeable than her previous characters, we share her disdain for the way she's treated by those around her.)
Screened without final credits, Spy feels a bit flabby at 115 minutes, the twists and turns of its espionage narrative probably more complicated than they need to be. But despite the shootouts, double-crosses, dead bodies and explosions, Spy is plenty of cheery fun, much of the joy coming from watching McCarthy in a blockbuster comedy for once not just be funny but also incredibly charismatic, vulnerable and sexy. It's a very good look for her.
Production companies: Chernin Entertainment, Feigco Entertainment
US distribution: 20th Century Fox, www.foxmovies.com
Producers: Peter Chernin, Jenno Topping, Paul Feig, Jessie Henderson
Executive producers: John J. Kelly, Mike Larocca
Cinematography: Robert Yeoman
Production design: Jefferson Sage
Editors: Brent White, Melissa Bretherton
Music: Theodore Shapiro
Website: www.facebook.com/SpyMovie
Main Cast: Melissa McCarthy, Jason Statham, Rose Byrne, Miranda Hart, Bobby Cannavale, Allison Janney, Jude Law